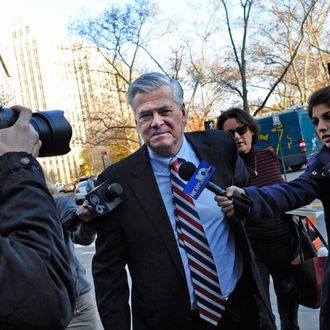 Former New York Senate Majority Leader Dean Skelos arrives at federal court with his wife Gail Skelos, on Dec. 11.
Photo: Louis Lanzano/Bloomberg via Getty Images
U.S. Attorney Preet Bharara got to continue his anti-corruption-in-Albany victory tour this Friday with a guilty verdict for former State Senate majority leader Dean Skelos, a Long Island Republican, and his son Adam. Just two weeks ago, former Assembly speaker Sheldon Silver, a Democrat from the Lower East Side, was found guilty on federal corruption charges too, definitively turning the state's powerful "three men in a room" into a new arrangement in which Governor Andrew Cuomo is just sitting there by himself. 
Skelos, who was kicked out of the state legislature when the jury announced its decision, was charged with using his political power to help his son, who was not at work to make friends — or do work — keep various high-paying jobs. The pair, convicted on eight counts of bribery, extortion, and conspiracy, could face up to 130 years in jail, and will be sentenced on March 3. Skelos, like Silver, plans on appealing the decision.
Bharara, who has charged a dozen state politicians for corruption in the past six years, released a statement shortly after the verdict was announced. "The swift convictions of Sheldon Silver and Dean Skelos beg an important question — how many prosecutions will it take before Albany gives the people of New York the honest government they deserve?"
Governor Andrew Cuomo blamed the state legislature for today's verdict, and told them to hurry up and pass things to fix the problem. "The justice system worked today … The convictions of former Speaker Silver and former Majority Leader Skelos should be a wakeup call for the Legislature and it must stop standing in the way of needed reforms," he said in a statement.
During the trial, jurors got the chance to listen to a wiretapped phone conversation in which Skelos imagined beating Cuomo in an election, a scenario that seems even more fantastical this afternoon. "I'm going to run against him. I'm going to do it. I'm going to do it. This is stupid. Everything is by polls … No more, you know, buddy-buddy and all that stuff. He's full of shit."
During closing arguments, prosecutors compared the case to a Shel Silverstein poem, and defense attorneys argued that "There is absolutely nothing wrong for a father to be involved and concerned for his son. You can be a state senator and you can be a father."
Skelos had been in the State Senate for 30 years; Silver had been in the Assembly for nearly 40. It's been a long time since the Capitol has functioned without their outsize shadows.