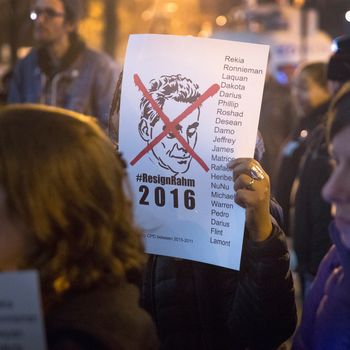 Protestors called for Mayor Emanuel's resignation on Wednesday.
Photo: Scott Olson/2015 Getty Images
Chicago has been in a state of unrest since the release of dashboard-camera footage of the fatal police shooting of 17-year-old Laquan McDonald, and on Wednesday morning Mayor Rahm Emanuel tried to calm the situation by apologizing for police misconduct that took place on his watch. Instead, his speech set off the most intense protests since the officer who shot the teen was charged with murder, and led to Chicago lawmakers introducing legislation that would create a procedure to hold a recall election.
A judge ordered that the video be released after a journalist sued the city, and many are angry that it took more than a year for the footage to be made public and charges to be brought against Officer Jason Van Dyke. There's speculation that Emanuel's recent reelection bid played a role in the decision not to release the video. For the past two weeks there have been ongoing demonstrations over McDonald's death and other alleged police-brutality incidents in the city. Emanuel responded by firing Chicago police chief Garry McCarthy, and this week U.S. Attorney General Loretta Lynch announced that the Justice Department will investigate the Chicago Police Department.
In Wednesday's 40-minute address before a special City Council session, Emanuel said the police force needs "complete and total reform" and vowed to win back the public's trust. "I'm the mayor. I own it. I take responsibility for what happened because it happened on my watch," he said, adding, "If we're going to fix it, I want you to understand it's my responsibility with you. But if we're going to begin the healing process, the first step in that journey is my step, and I'm sorry."
The mayor's voice cracked several times during the speech, and he appeared to be near tears when he described meeting with a young man who had several run-ins with police. "He said, 'Do you think the police would ever treat you the way they treat me?'" Emanuel said. "And the answer is no. And that is wrong. And that has to change in this city. That has to come to an end now. No citizen is a second-class citizen in the city of Chicago."
Demonstrators were unsatisfied by Emanuel's apology and reform pledge. "We just witnessed the mayor basically put a Band-Aid on a gunshot wound," Bishop James Dukes, pastor of Liberation Christian Center in Englewood, told CBS Chicago. "I think it was politically driven. I think he had to give a distinctive apology, at least say he was sorry, but the intent that was involved in it, I don't think is there."
For hours, protesters wove through downtown Chicago, disrupting traffic, waving signs with slogans like "Rahm Emanuel is morally corrupt," and calling for resignation of the mayor and Cook County state's attorney Anita Alvarez.
In the evening, the demonstrators gathered at Chicago Police Headquarters for a police-board meeting. The Washington Post reports that during the public-comment section about 300 people took turns denouncing the department.
Emanuel said last week that he has no intention of resigning. "We have a process; it's called the election," he told Politico. "The voters spoke. I'll be held accountable and responsible for my actions and decisions I make, and that's how I approach it." There's no way to force Emanuel out, since Chicago has no mechanism for removing the mayor — but now, two state representatives are trying to change that. Democrats Mary Flowers and La Shawn Ford co-sponsored a bill introduced Wednesday night in the Illinois General Assembly that would amend a 1941 law to create a mayoral-recall procedure, which would be "effectively immediately."
Under the plan, a recall election could be initiated with signatures totaling 15 percent of the total votes cast in the last election, in this case 12,500 signatures. Ford drew up the legislation two weeks ago and decided to introduce it after seeing Wednesday's protests. "The people have lost confidence in the mayor and until he can regain confidence, we have to have something in place that we can try to bring the city together," he told CBS Chicago.
It's far from certain that the procedure will be put in place. House Speaker Michael Madigan would have to bring up the bill for consideration, the Democratic-majority House and Senate would need to approve it, and it would require the governor's signature.
Emanuel may be able to smooth things over by following through on his police-reform pledge, but if a recall election were held right now, it seems unlikely that he would survive. A recent poll by the online Illinois Observer found the mayor's job approval is at 18 percent, and his disapproval rating is 67 percent. "Believe me, there's a lot of buyers' remorse right about now and there's a lot of I-told-you-so right about now and there's a lot of second-guessing," Chicago political consultant Delmarie Cobb told Reuters. "I do think that if this continues, certainly he would never get re-elected again with 55 percent of the black vote" as he did eight months ago.