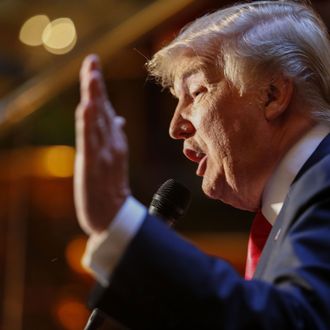 Donald Trump.
Photo: KENA BETANCUR
Fresh on the furor over his alleged mocking of one journalist, Donald Trump goes after another on Twitter:
For those luckily innocent of exposure to her work, Jennifer Rubin is the house conservative blogger at the Post, and while she has often attracted negative attention for highly mercenary behavior on behalf of whatever Republican politician or politicians she perceives herself as serving at any given moment, she is not a "dummy" with a "low IQ." She has been pounding away at Trump for months — today, in fact, suggesting the Donald is a "chicken" who is demanding a charity contribution by CNN before participating in their next debate because his performance in such events is deteriorating. So, in theory, Trump is just giving as good as he gets, trading insult for insult — except for the fact that Rubin is a blogger and Trump is at present the front-running candidate for president in one of America's two major parties.
Life in Trump's press operation must be interesting. If his personal warfare with individual journalists continues, before long some scribblers and gabbers may choose not to mention the Donald at all, while others privately beg Team Trump for a nasty little tweet in their direction.