After police in three states received a flood of phone calls, a woman who duct-taped her dog's mouth shut and posted a photo of it on Facebook has been arrested and charged with animal cruelty.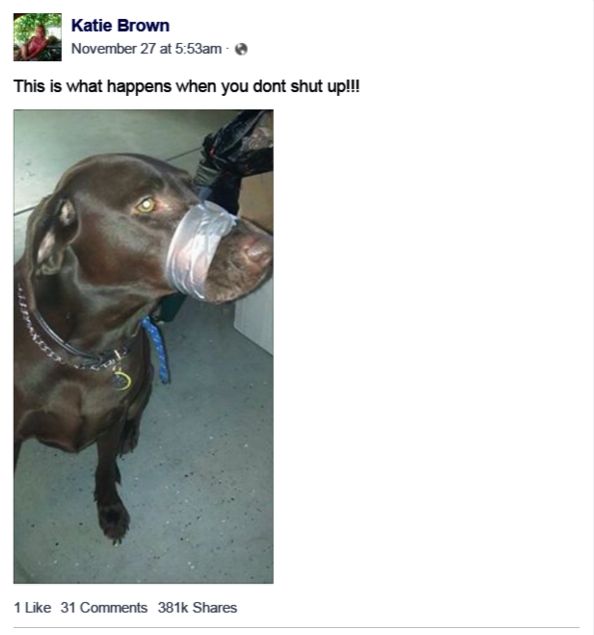 Katherine Lemansky, who also goes by Katie Brown, shared the distressing photo of her chocolate Lab last Friday, with the caption, "This is what happens when you dont shut up!!!" It rapidly went viral, shared nearly 400,000 times.
Tens of thousands of people tried to bring the photo to the attention of police, which turned into a three-state ordeal because it was difficult to pinpoint where Lemansky actually lived. Her Facebook page showed a South Daytona, Florida, location, but she also owns property in Connecticut (she had reportedly been on vacation there over the weekend, but went into hiding after her Facebook post wound up all over the internet.)
South Daytona police got so many calls about the dog that they had to bring in seven off-duty employees to handle the phones, NBC News reported. The switchboard eventually crashed due to the high call volume.
Volusia County, Florida, Animal Services was also swamped with phone calls; the organization had to put out a press release pleading with the mob to stop calling so employees could do their jobs and take care of other animals.
Meanwhile, police found Lemansky in Cary, North Carolina, where she was staying with the dog, named Brown. She was arrested for misdemeanor cruelty to animals, and now faces a fine and up to 150 days in jail.
However, Brown and Lemansky's other dog weren't taken away from her. A North Carolina NBC affiliate reports police found the pets were unhurt and seemed to be doing fine.
"[O]ur animal control officers who physically examined both Brown and her littermate found the dogs to be very well cared for, which is why we did not and could not remove them from the owner. The dogs are current on their shots, spayed, and microchipped. They are clean and well-nourished and appear to be comfortable in their surroundings. And there were no signs of injury to Brown's muzzle, not even detectable hair loss," Cary police said in a statement.