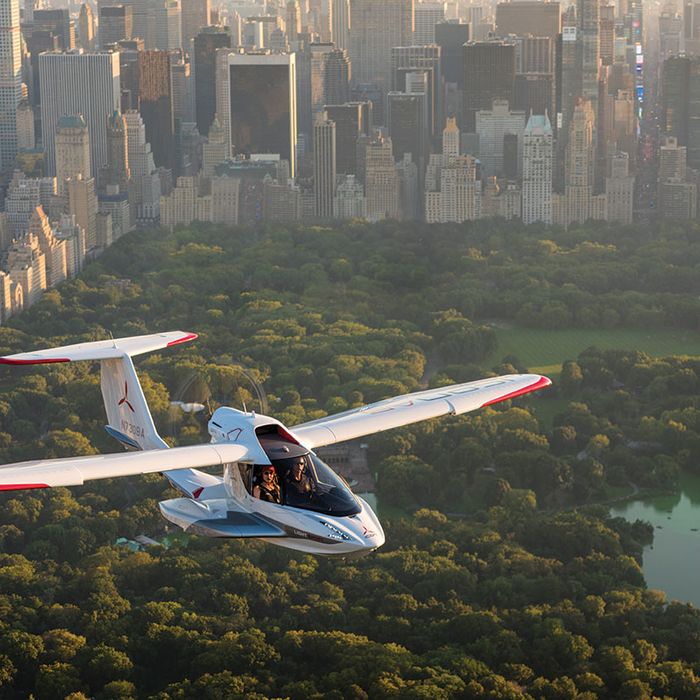 A light-sport Icon A5 airplane
Photo: Courtesy of Icon/Gluekit
Once upon a time, becoming an early adopter meant spending big bucks on arcane gadgets (being the first on your block with a Palm Pilot or HDTV) and ever-more-powerful Pentium processors. But in an era where it's virtually impossible to discover a new app before it's already been upvoted on Product Hunt or zap your brain in a manner that hasn't already been demonstrated on YouTube, the only way to forge new ground is to be, well, totally obsessive. Today's early adopters are as much makers as buyers: growing their own food using high-tech sensors, mapping out a complex network of virtual assistants, self-experimenting their way to an ideal ratio of various brain-boosting pills. Here, meet a group of such folks at the forefront of making life easier — which, frankly, seems like very hard work.
The Man With the Foldable Plane
Robert Schuham, 51, Boulder, Colorado, angel investor.
"

I have a deposit on a $189,000 light-sport Icon A5 airplane. It has foldable wings, so it can fit on a trailer, and it can land just about anywhere, including on water — though getting permits for the lagoon in Denver City Park may be a challenge. For me, it's all about the experience of flight in a lightweight, fuel-efficient airplane that has incredibly simple avionics and unprecedented safety features like an anti-spin design and a parachute if you get into some serious-ass

 

trouble.
 My Tesla Model S

P85D

is like an eco–hot rod. And with its new Autopilot feature, I can now pretty much have the car drive itself from Boulder almost all the way to Denver on the turnpike. It's a bizarre experience to have the wheel turning and adjusting the vehicle's course on its own, and when combined with the cruise-control feature that speeds up and slows down based on traffic in front of you, it feels like there's a ghost in the machine. The first time I used it, my car surprised me and took an exit I didn't want it to, but we're both still learning about each other's

 

preferences.
In my Tesla, I'm usually listening to Slacker internet radio, which I'm addicted to because it does the best job of automatically guessing what I'll like, but it has a human element in the curation that keeps it from sounding like I'm listening to bot-programming. I have an Escort Passport 9500ci custom-installed radar-detection system because I, like everybody else, hate tickets. This is installed into the front of the car inside the air intakes and in the back of the car, straddling the license plates, and makes sure I'm warned anytime police radar or laser systems have a lock on me. I also use the Escort Live app occasionally for crowdsourced details on speed traps. It all sounds like distracted driving, but I have my car set up so everything is eye level and doesn't require me to look away from the

 

road."
The Family That Lives in a Robot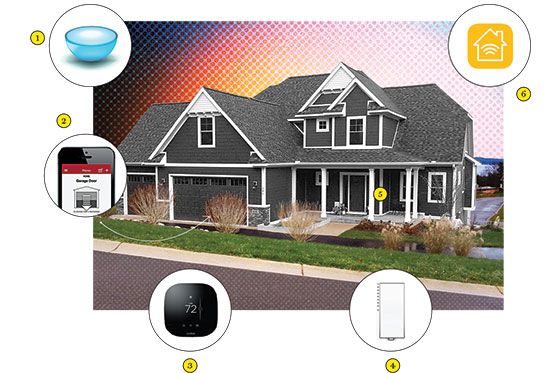 Andrew Schmitt, 38, Traverse City, Michigan, director of technology at the Interlochen Center for the Arts.
"With a second kid on the way three years ago, we needed a bigger house. We decided to build it ourselves with all the latest technology, and what we ended up with is akin to the skyscraper in Gremlins II: the smartest, most sensor-packed, most automated home we could possibly imagine."
1. "As the sun rises, our Philips Hue lights automatically turn on to let us know the day has begun. My daughter knows that she is only allowed out of bed when her Hue Go light turns bright green at 7 a.m."
2. "I use the LiftMaster MyQ Gateway to open the garage door from my phone. Our doors are outfitted with Schlage Sense door locks. This lets me open them from an app, and if any doors are open more than 60 minutes in the summer or 15 in the winter, we get a phone alert."
3. "The temperature in the house is controlled by an Ecobee thermostat. It's not as well known as the Nest, but it uses additional sensors to monitor the temperature. So if there's no motion detected in the basement, it won't waste energy trying to heat that area."
4. "When the house hits 68 degrees, an Insteon Wall Switch automatically turns the fireplace on. We also use Netatmo weather sensors to gauge temperature, sound, and air quality. If the air quality dips or there are noises in the house when we're not there, we get an alert."
5. "At night, our porch lights automatically turn on. If the cameras pick up any movements after dark, they snap a picture and send it to our iPhones and Apple Watches.  If we hear a strange noise, we can remotely turn on a bunch of outdoor and indoor lights all at once."
6. "Most of the systems are controlled by their own hubs and apps, but Apple's HomeKit allows these devices to all talk to each other."
7. "We have nine security cameras throughout the house. They're made by a company called Hikvision, and they record on motion. During the day, my wife can let the kids play outside for a few minutes while she folds laundry and watches them on the cameras."
8. "We also use the cameras to make sure our kids are actually sleeping. Our daughter tends to kick her covers off, so we can use them to check in on her to see if we need to sneak up the stairs and cover her up. If the kids need to use the bathroom during the night, they can double-tap a switch that activates a dimly lit path to the bathroom."
The Guy With Four Virtual Assistants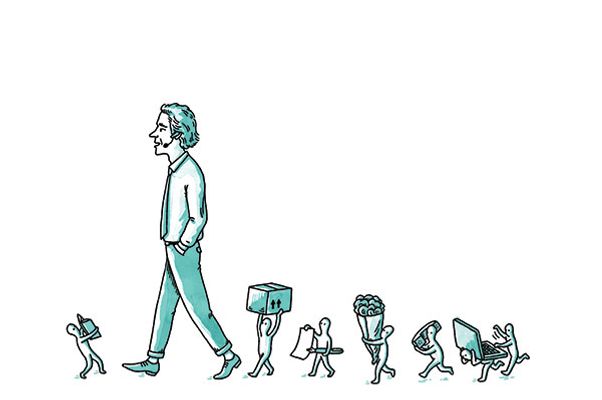 Nick Gray, 34, New York, founder of Museum Hack.
 "Here's my rule: If I'm doing something more than three times, then I set up a plan to outsource it." 
"A virtual assistant is an affordable helper who works remotely and gives you superhuman powers. I have four of them. Before I open my email in the morning, my most senior VA, Nadia, will have scanned my messages and taken care of simple tasks like scheduling appointments. I found her on Zirtual, but liked her so much I hired her to work directly for me. She's based in Florida. Then there's Esther, who I found on Upwork; Angel, who is in North Carolina; and Honesto, over in the Philippines.
One of my favorite things to do is to call one of my VAs — usually Nadia or Angel — and walk around my neighborhood while they read my emails to me over the phone and then transcribe and send my replies. Having someone on the phone holds me accountable when I have important messages that I keep putting off — unpleasant things like paying bills or saying 'No' to people. Usually, this works fine, but one time one of my VAs replied to somebody and forwarded them the entire email thread, including some things that person shouldn't have seen. I was mortified.
I've had my VAs plan an epic bachelor party: Not only did they help me home in on the best option — a trip to a deserted island in Maine — but they coordinated everything with the group of ten-plus guys, hired drivers, and even checked on the legal status of carrying firearms aboard a private aircraft for skeet shooting. I use them for everything: like ordering flowers for my mom, calling tech support for buggy gadgets, making donations to charities, and contacting congressmen about things that concern me.
I'm a power user and spend about $5,000 a month on my VAs, though you can start for as little as $100 per month if you just use someone part time or a service like Hello Alfred, which is a butler service that sends a real person to my house once a week to do my grocery shopping and simple errands like watering my plants or selling my Google Glass on eBay. For one-off tasks like data transcription, I use Fancy Hands, a network of on-demand VAs who will do almost anything for around $6 per 20 minutes of work.
To live like this, you have to be good at delegating. You have to be specific with what you want. I spell out every single possible detail for every task. If you aren't specific, your flower order could come up as $350 with the bill sent to your mom. Believe me, you don't want that."
The Woman With Ten Drones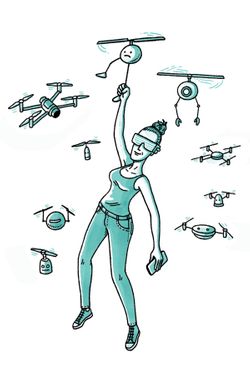 Desiree Ekstein, 52, Lake Elsinore, California, UAV pilot and instructor.
"My mom started calling me 'Drone Diva Desi,' and it just sort of stuck."
"I love being able to see things in a different perspective. I just upgraded to the DJI Phantom 3 Pro. It's really got the high-end-photography stuff down.The next step up from there is the updated version of the DJI Inspire 1 Pro. They just announced it a few weeks ago, so I don't have it yet, but its camera looks like a DSLR is hanging from the bird.
I have a bunch of really small drones without cameras so I can toy with them and practice my flying around the kitchen. My Cheerson CX-10 Nano Drone is just two inches across, so it fits in my hand. I also have the Proto-X, which is the height of a quarter.
The drone everyone's talking about is the upcoming Lily Camera, which will cost about $1,000. You throw it in the air and it follows you and films without you having to control it at all. It's like a selfie stick without the stick!"
The Super-Duper Foodie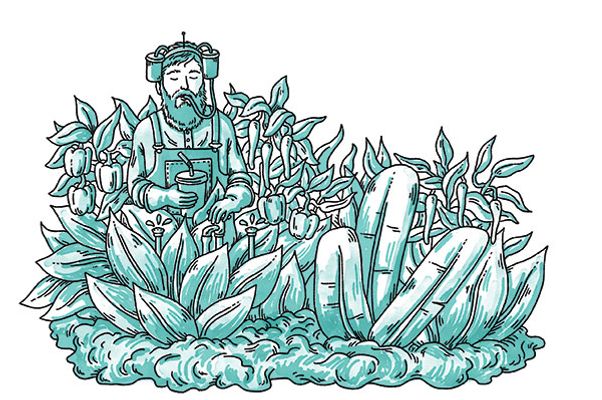 Anthony Krumeich, 29, San Francisco, entrepreneur.
"I may or may not have started growing my own food to impress a girl."
"For breakfast, I'll have oatmeal, a green smoothie, and coffee. The smoothie is made from vegetables that I grow on my patio. I have three varieties of kale, four varieties of sweet peppers, four types of mint, and anything else you could imagine: from strawberry spinach to a toothache plant that numbs your mouth.
I use garden sensors to track my plants' basics and to better understand how to match soil conditions to the right heirloom plant varieties. I started with the Parrot Flower Power sensor, which sits in the soil and assesses plants' needs and then sends alerts to an app if it needs more water or anything else. This works for small planters, but for larger yards, the Edyn sensor is a better fit. Using these sensors, I was able to tell that one variety of lettuce would bolt — that is, stop growing and go to seed — in one part of my patio because it gets too hot there.
I use the Loom ecosystem — which I helped create and basically boils everything you need to grow a garden into a small kit. It comes with plants, self-watering planters, and a sensor that lets me know if I need to fill a water tank or move a plant to a sunnier spot or into the shade. If you've got a ton of indoor space, there's the Grove ecosystem — but it's as much a piece of furniture as a planter: It's huge and costs thousands.
I supplement just about everything I eat with plant extracts such as moringa powder — it's this superfood that comes from the leaves of the moringa tree and gram for gram has twice the potassium of bananas, four times the calcium of milk, twice the protein of yogurt, and tons of antioxidants — and maca powder, which is a root vegetable that only grows at the top of the Peruvian Andes and gives me energy and boosts my libido. I also use cricket powder from a brand called Cricket Flour. It tastes like almond meal, is a great source of added protein for things like shakes, and I believe it's better for me than many of the highly processed protein powders that are out there.
After breakfast, I take a few nootropic — brain-enchancing — pills to help my focus and ability to recall information: four truBrain pills — which I like because they don't make me feel shaky — and one Nootrobox Rise for its memory-boosting ingredients. I can't separate their use from all the self-improvement work I've been doing, but I know that in combination, they've helped me function at a higher level.
For lunch, I'll either make a protein smoothie or mix up some Soylent powder with water. It has a pretty flat flavor, so I'll add some peanut butter to make it a bit more palatable.
I let myself cheat every once in a while. I really like going to pop-up dinners with Feastly, an Airbnb-type service for chefs. I prefer it to restaurants because I get to meet new people and am exposed to dishes I might not try otherwise — like the time I had a meal where figs were used in every course, or my favorite, which was freshly foraged BBQ monkeyface eel."
*This article appears in the December 14, 2015 issue of New York Magazine.