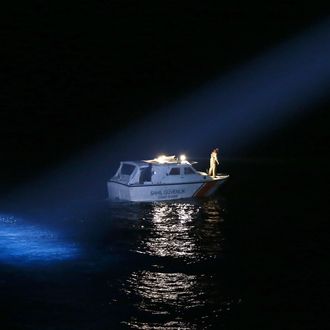 Turkish coast guard crew members rescue migrants after their boat sank as they were trying to cross the Aegean Sea.
Photo: Cem Oksuz/Anadolu Agency/Getty Images
As GOP candidate Donald Trump is firing off about a plan to ban Muslims from entering the United States, the European Union is grappling with its own backlash to refugees and migrants from the Middle East and Africa, which has intensified after the Paris massacre.
In France, Marine Le Pen's far-right and anti-immigration National Front surged in regional elections and, according to The Guardian, garnered nearly 50 percent of the vote in Calais, where thousands of migrants have been camping out as they attempt to cross the Chunnel into England.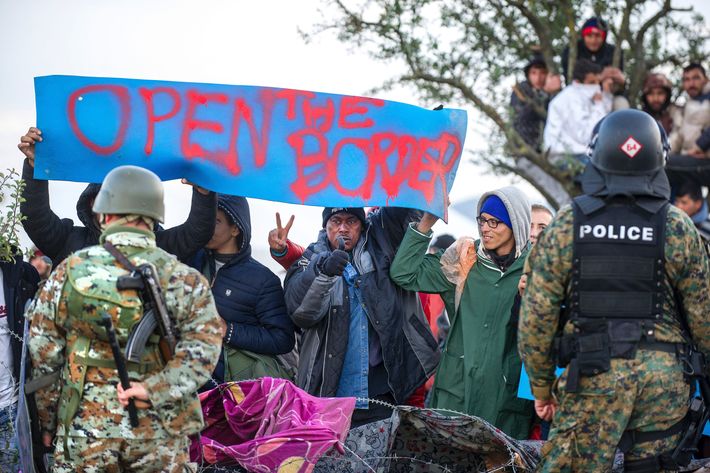 Germany — which has accepted the most asylum-seekers of any EU country — also saw support for its nationalist party jump in the polls. So far, the German government has registered more than 960,000 migrants through the end of November, already shattering the 800,000 the country had originally predicted, and is on pace to exceed 1 million before the end of the year. According to the BBC, that number is quadruple last year's arrivals to Germany.
Scandinavian countries, including Finland, Sweden, and Norway, have ramped up their asylum rules, making it harder for some people to get approval in those countries.
The anti-refugee sentiment also fuels anti-European feelings, forcing Martin Schulz, the president of the European Union Parliament, to warn that the EU is in "danger." He told the German paper Die Welt that while Europe needed to cooperate and secure its outer borders, "what won't work is putting up walls or border fences within Europe. That will damage all of us, and is anyway useless."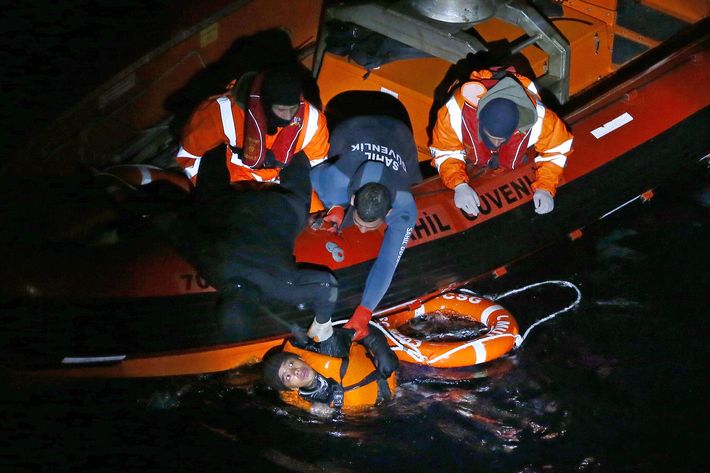 And yet the refugees and migrants keep attempting to reach Europe. On Tuesday, at least six Afghan children drowned — one of whom was reportedly an infant — when a boat capsized. The Turkish coast guard rescued five others, including a 12-year-old boy, but two remain missing. Yesterday, the body of an unknown young girl washed ashore on the Turkish coast. November saw more than 140,000 crossings, though the numbers were down from October's record high. Many believe the cold has now become a deterrent, though there are rumors that smugglers are offering "cold-weather discounts" to desperate refugees. 
Nearly 900,000 people have made dangerous sea journeys to Europe so far this year. More than 3,600 people have died before reaching land.
Europe also wants to ameliorate the humanitarian crisis by trying to get people to stay in Turkey and await approval for EU asylum there. Last week, the EU proposed a €3 billion plan (about $3.2 billion) for Turkey to crack down on smugglers and help the EU identify and screen people who are truly refugees of war and conflict. The EU would also build a refugee center in Turkey and sweeten the deal by putting back on the table the possibility of negotiations over membership and visa-free travel to the European Union for Turkish citizens. However, now leaders from individual EU countries are pulling back from the proposal and protesting the high price tag — especially since any plan probably won't slow the stream of refugees and migrants coming over to Europe any time soon.