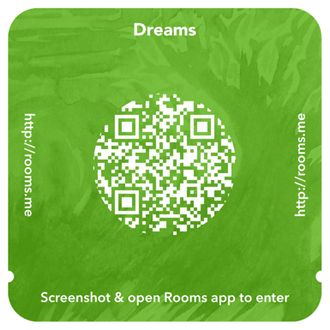 Two years ago, Facebook launched Creative Labs, a development studio within the larger organization meant to incubate ideas more suited to a bootstrapped garage start-up operation than a data-mining monolith. Now, that division is no more.
Creative Labs was responsible for apps you used for half a day and only kind of remember now. You know, classic apps like Slingshot, Rooms, and Riff. All three of those apps have been pulled from stores. Of nearly a dozen apps produced by the initiative, none of them were hits. Stand-alone apps for social networks are generally low-stakes pump-and-dumps; experimental stop-gaps to remind people that "Hey, we're still maybe fun!" every few months.
Slingshot in June of last year was a supposed Snapchat killer with a gimmick that seemed neat(?) but was actually just really stupid. In order to open a photo from someone else you had to send one first. That's a cool idea, except that it made it impossible to have an actual conversation, because you were responding to … a message you hadn't read.
At launch, TechCrunch's Josh Constine wrote:
Slingshot is a bold move for Facebook, as it could cannibalize sharing via News Feed, Messenger and Instagram. But by devising a truly unique mechanic with "reply to unlock," Facebook may have finally found a Snapchat competitor that's not a Snapchat clone.
Rooms was the company's attempt at a new type of messaging app where users were not required to use their real name and anyone could join the conversation if they possessed the chat-room-specific QR code.
From the Verge:
To invite you to a room, I tap "invite," which generates a QR code image that looks like a square movie ticket. Then, I text you the image. You simply save the image to your camera roll, and when you open Rooms, the app adds you to the room automatically. How? Rooms, like every other social app, asks for access to your camera roll. Each time you open the app, Rooms scans your recent photos for QR code invites, then automatically adds you to the corresponding rooms. If you'd rather do things manually, you can always tap Use Invite in the app and choose the QR code image, or even take a photo of a QR code you found in the real world. Miller hopes that everyone from yoga instructors to concert venues will print and post QR codes for people to grab and join rooms.
Yes, in 2014, someone at Facebook decided that the best way to jump into a chat room was to have people scan QR codes.
Riff, launched in April of this year, was inspired by memes like the Ice Bucket Challenge that had a universal structure that people, um, riffed on. It let users record videos and then send them to friends to expand up. At the time, Riff lead Josh Miller said, "We don't know what a Riff is going to be good for." It turns out the answer was "nothing."
Other Creative Labs apps are still available. Moments, for sharing photo collections, is still up, as is the site's app for Groups. Mentions, the app made so that celebrities could manage their fan pages, is also available. News-reading app Paper also had its underlying tech folded into the service's new Instant Articles packaging.
Rest in peace, Creative Labs. Much like your apps, you were fine for a brief moment and then everyone realized they didn't need to keep you around.