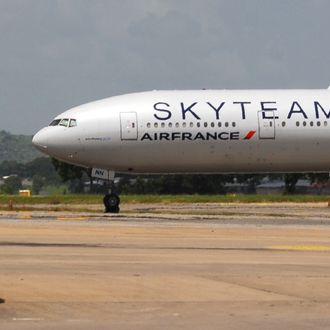 A suspicious object, ultimately identified as a fake bomb, forced an Air France flight to make an emergency landing in Kenya on Sunday. The device, which was discovered by a passenger in one of the plane's restrooms, was apparently created using cardboard, paper, and a household timer — but did not contain any explosives, according to the Washington Post. Flight 463, originally bound for Paris from the island nation of Mauritius, landed safely at Moi International Airport in Mombasa, which was temporarily shut down as a result. The more than 450 passengers were evacuated using the plane's emergency slides, screened, and transported to local hotels — though they were expected to once again depart for Paris on Sunday.
A Kenyan police official has indicated that six passengers from the Boeing 777 were questioned, and CNN reports that four were ultimately arrested over the hoax. Said Air France CEO Frédéric Gagey during a press conference, "It seems like a nasty joke. This is behavior which is in extremely bad taste."
This post has been updated to reflect the arrest of some of the plane's passengers.