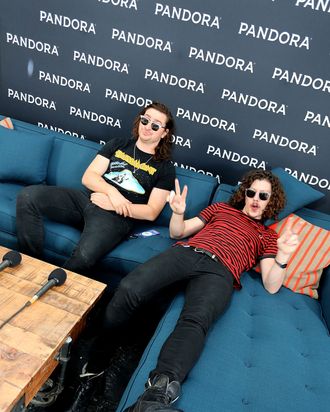 Photo: Rachel Murray/Getty Images
At a concert in Melbourne, Australia, last night, a man named David Spargo was able to get backstage by convincing a security guard that he was related to the electronic duo Peking Duk. The evidence: He was listed as family on their Wikipedia page.
The security guard waved Spargo through and he made it all the way to the green room. "We ended up having a bunch of beers with him and he was an absolute legend. He wasn't a creep or anything. He was like the most normal dude we've ever met. That's what makes it more hilarious," group member Adam Hyde told the Guardian.
The band posted about it on Twitter and Facebook using a meme from the film Anchorman.
Spargo responded very politely on Facebook.