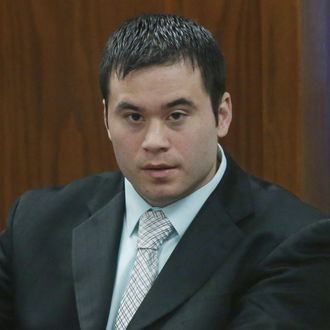 Daniel Holtzclaw.
Photo: Sue Ogrocki/AP/Corbis
A former Oklahoma City police officer accused of sexually assaulting 13 women while on duty was convicted on Thursday, and now faces more than 260 years in jail. Daniel Holtzclaw, 29, was convicted of 18 out of 36 counts, including sexual battery, forcible oral sodomy, and rape. Most of the victims said that Holtzclaw stopped them while on patrol, searched them for outstanding warrants or drug paraphernalia, then forced them into sexual acts. All of the women were black, and many had criminal records and issues with drugs — a fact highlighted by the defense to question their credibility. Assistant District Attorney Gayland Gieger alleged that's exactly why Holtzclaw targeted the women. "I didn't think anyone would believe me," one woman testified. "I'm a black female."
The first woman to come forward was a grandmother in her 50s, who went to the police after Holtzclaw stopped her on June 18, 2014. According to the AP, she said he pulled her over on suspicion of drunken driving, then told her to get into the back seat of his squad car, exposed himself, and ordered her to perform oral sex.
The youngest accuser was 17 at the time of the assault. She testified that Holtzclaw groped her outside the front door of house, saying he was searching for drugs, then pulled down her shorts and raped her.
Jurors deliberated for more than 40 hours over four days. Six of the women accused Holtzclaw of rape, and he was found guilty on four of those charges. Holtzclaw wept in court as the verdict was read.
The case drew the attention of the Black Lives Matter movement, as it involved issues of police misconduct and race. Holtzclaw is half-white, half-Japanese, and it appeared that all of the eight men and four women on the jury were white (court officials said they did not collect information on their race). Oklahoma City NAACP president Garland Pruitt had said he was concerned about the makeup of the jury. "We're very disappointed, very, very disappointed, that we don't have any minorities on there," he said. "We're not saying justice can't prevail, but we can be suspicious of it being (run) in a manner."
In his letter firing Holtzclaw, Chief William Citty called the officer's alleged misdeeds, "The greatest abuse of police authority I have witnessed in my 37 years as a member of this agency." Following the verdict, the department said in a statement, "We are satisfied with the jury's decision and firmly believe justice was served." Holtzclaw will be sentenced on January 21.