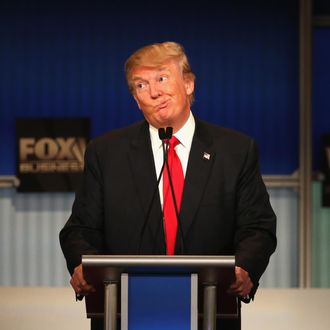 Attention all GIF enthusiasts.
Photo: Scott Olson/Getty Images
After realizing America was at risk of having only one GOP debate in the month of January, the Republican National Committee has sanctioned another forum on January 14 in South Carolina, hosted by Fox Business Network. Following the CNBC debacle, the network was praised for leading a more substantive (or some might say boring) discussion last month. This sixth GOP debate falls two days after President Obama's final State of the Union, three days before an NBC Democratic debate, and two weeks before another Fox News GOP debate, culminating in the first-in-the-nation Iowa caucuses on February 1. (And before all that the candidates will meet next Tuesday for CNN's Republican debate.) If you're a fan of politics-related drinking games, it's going to be a very happy new year.