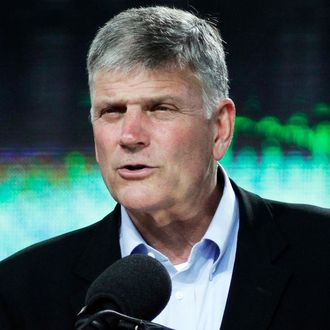 Reverend Franklin Graham, president and CEO of the Billy Graham Evangelistic Association and of the charity Samaritan's Purse.
Photo: Lawrence K. Ho/Los Angeles Times
One of the big narratives you hear about the Republican presidential nominating contest is that Donald Trump is going to lose in Iowa and elsewhere because his nasty prejudices and religious ignorance are offending the conservative Evangelical voters who play such a large role in GOP politics. And without question, some conservative Evangelical leaders have become outspoken in decrying support for the Donald among their co-religionists.
That's certainly true of Russell Moore, the spokesman for the Southern Baptist Convention who has repeatedly scourged Evangelicals for their interest in Trump, a man "with a personal lack of a moral compass" who champions divisive politics. This very morning Moore published a specific attack on Trump's ban-Muslim-entry proposal at the Christian Post, arguing that any government with the power to discriminate against Muslims could someday discriminate against Christians. 
But Moore's is not the only pulpit in American conservative Christendom. And it's worth noting (as did Washington Monthly's Nancy LeTourneau) that the bearer of the most famous name in American Christianity, the Reverend Franklin Graham, actually anticipated Trump's proposal in a Facebook post on Friday that read in part:
Mr. President, we don't need more gun control—we need border patrol. No Muslims should be allowed into this country until there's a process in place to fully vet them. We've got to turn away those who could potentially pose a threat until this war with radical Islam is over.
Graham, you may recall, once referred to Islam as a "very evil and wicked religion" that did not share the same God as Christianity. With the backing of his political allies in the Bush administration, he was involved extensively in missionary activities in occupied Iraq that focused on charitable work, but occasionally seemed to edge over into a state-sponsored crusade to secure conversions. Much more recently, in March, Graham expressed fear that Muslims influencing Barack Obama would soon launch a persecution of Christians right here in the USA:
There are Muslims that have access to him in the White House, our foreign policy has a lot of influence now from Muslims. We see the Prime Minister of Israel being snubbed by the president and by the White House and by the Democrats and it's because of the influence of Islam. They hate Israel and they hate Christians, and so the storm is coming.
Evangelical Protestants have no pontiff, and thus no one exclusively speaks for them. That's true of Russell Moore as well as of Franklin Graham. But Graham is not alone in viewing Trump's ban-Muslim-entry proposal as an act in defense of, rather than defiance of, Christian principles. Perhaps the best-known Christian-right journalist in the country, CBN's David Brody, reacted to Trump's proposal by tweeting that he is the "only candidate to have the bravery [sic] to put out that statement on Muslims." So don't be too surprised if Trump's following in this constituency remains relatively strong despite denunciations from various quarters. History teaches us there will always be a significant number of Christians, alas, who read the Scripture passage where Jesus warns, "I did not come to bring peace, but a sword," and take it all too literally.