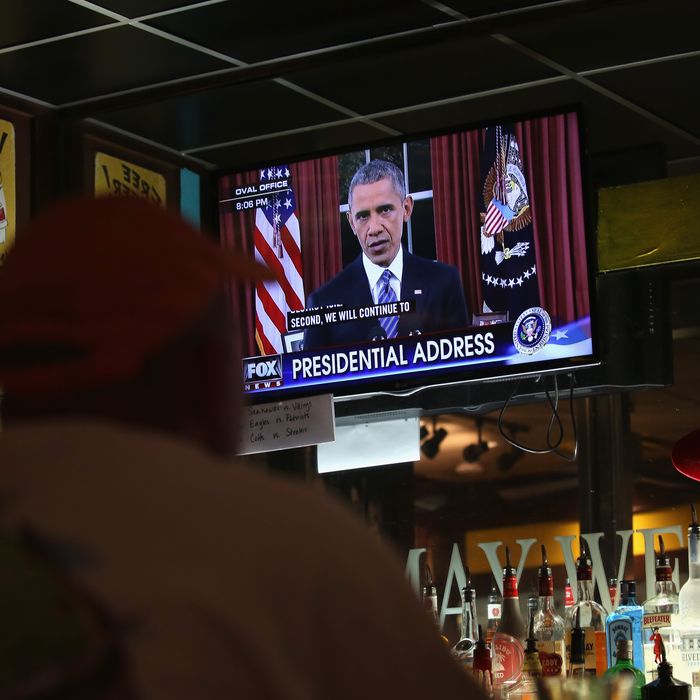 Photo: John Moore/2015 Getty Images
In a Sunday night address focused on the fight against terrorism, President Obama reiterated his administration's anti-ISIS strategy, called for Congress to make changes to the United States's gun and visa laws, and urged Americans to reject Islamophobia. Naturally, the Republican presidential candidates didn't approve of the speech (or, in Donald Trump's case, the way the Oval Office podium looked). Meanwhile, Bernie Sanders seemed alright with Obama's remarks, Hillary Clinton said nothing about them, and the White House had to issue a correction as soon as the president was off the air.
Here's that correction, via Business Insider:
When emailing out the official transcript of his speech, the White House amended the president's comment that Tashfeen Malik, one of the perpetrators of the San Bernardino, California, attack, arrived in the US as part of the US's visa waver program.

Malik actually came to the US last year on a K-1 "fiance visa," officials have said. She was engaged to Syed Farook, the other culprit in Wednesday's shooting, which left 14 dead and wounded more than 20 others. A K-1 visa allows the individual to come to the US and be married within 90 days, making him or her eligible for a green card and putting the individual on the path to eventual citizenship.
And here's what the candidates had to say:
The Republicans

The Democrats
Bernie Sanders: "President Obama is right. ISIS will be destroyed with an international coalition in which Muslim troops on the ground are supported by the United States, United Kingdom, France, Russia and other leading powers. We must learn the lesson of Iraq. American troops should not be engaged in perpetual warfare in the Middle East. Further, as we destroy ISIS, it is essential that we do not allow fear and division to undermine the constitutional rights that make us a free people."
Hillary Clinton didn't issue an immediate response, but: