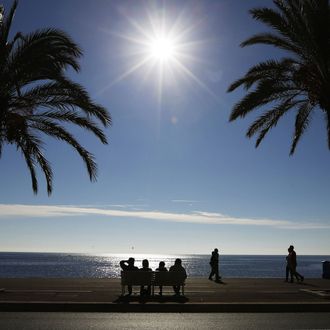 Oh, that heat? It's nothing! Probably builds character.
Photo: Valery Hache/AFP/Getty Images
Earlier this week, President Obama told world leaders in Paris, "I've come here personally, as the leader of the world's largest economy and the second-largest emitter, to say that the United States of America not only recognizes our role in creating this problem, we embrace our responsibility to do something about it."
He left the U.N. climate conference on Tuesday. Shortly after, when he no longer had the chance to offer a rebuttal to those who disagreed with him back home, the House of Representatives passed resolutions noting their disapproval for Obama's EPA regulations on power plants. One representative told the AP that the votes were designed to "send a message to the climate conference in Paris that in America, there's serious disagreement with the policies of this president."
Given that Congress was also responsible for the U.S.'s decision to not give the Kyoto Protocol a thumbs-up more than a decade ago — and that the GOP has been reminding everyone about its views on climate change for years — it seems likely that the world didn't need a reminder that getting America to agree to a climate treaty would not be an organic and locally sourced piece of cake. French foreign minister Laurent Fabius told reporters on Wednesday, "We know the position that the Congress has — or at least the position of many of the Republicans in Congress."
In case there were any doubts, Republican presidential candidates have been making sure to note that in their administrations, there would be no room for conversations about climate change because everyone would be so busy talking about ISIS.  
Senator Ted Cruz said something similar, noting that Obama "apparently thinks having an SUV in your driveway is more dangerous than a bunch of terrorists trying to blow up the world." Donald Trump told MSNBC, "I think one of the dumbest statements I've ever heard in politics, in the history of politics as I know it, which is pretty good, was Obama's statement that our No. 1 problem is global warming."
"No matter how you feel about the issue about the environment, the climate," Senator Marco Rubio said, "there's no way any reasonable person could conclude that the most immediate threat we face to our security is what the climate's going to look like in 25 or 30 years."
Carly Fiorina, on the other hand, has been analyzing Barack Obama's body language and is pretty sure he definitely doesn't care about ISIS enough. She told Laura Ingraham, "I watched much of his press conference, and his passion comes when he's talking about climate change. He has no passion when he's talking about defeating our real enemy, which is ISIS." Ohio governor John Kasich noticed the same thing. "It seems as though they're a lot more passionate at this point about climate change," he told voters in Tennessee, "than they are [about] the real problem that faces us today."
Jeb Bush, who told a reporter this summer, "The climate is changing; I don't think anybody can argue it's not," said he's "uncertain" he would even attend the climate talks if president. 
New Jersey governor Chris Christie definitely thinks the climate is changing, but he doesn't see what the big deal is. "I don't see there's any evidence that it's a crisis," he told MSNBC.
Presidential candidates Lindsey Graham and George Pataki both think that climate change needs addressing, but their poll numbers are so low that no one has bothered asking them about it much lately. 
Obviously, given the resolutions passed on Tuesday, many Republican legislators feel the same — in the grand pie chart of politics, there's just no room to save a slice for climate change. Speaker of the House Paul Ryan told reporters, "I think when you weigh the costs and the benefits against these so-called legally binding obligations they don't add up. I think it's very clear people want jobs." And, as everyone knows, government is barred from addressing more than one issue at a time. 
The party isn't a monolith — besides Graham and Pataki, there are a few other Republicans who are willing to talk about climate change. Grist talked to Representative Chris Gibson from upstate New York, who said that if "conservation is not conservative, then words have no meaning at all." (Remember, Richard Nixon was the one responsible for creating the Environmental Protection Agency in the first place.) Gibson says that when he tries to explain his position on climate change to constituents and colleagues, he reminds "them that I'm a former soldier and I make sense, I think, because soldiers really have to live in the real world, we have to be reality-based, because bullets rip through flesh. And so, given the fact that the science points to this changing climate, this is reality."
Most Republicans, however, don't agree. And even if they fail at stopping an international climate agreement, they are eager to remind the White House that its time is almost up — and that many legislators will outlast Obama. "But with all due respect to the President as our Commander in Chief, governments currently engaged in this round of climate talks will want to know that there is more than just an Executive Branch in our system of government," Senate Majority Leader Mitch McConnell said on the Senate floor Monday. "More than half of the states have filed suit against the President's power plan. … And the next president could simply tear it up."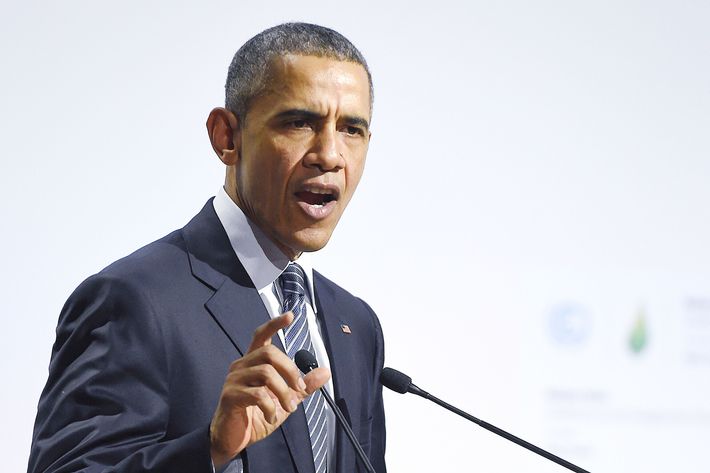 Obama hopes his successor — if they happen to not agree with him on climate right now — might change their mind once they get a chance to soak in those Oval Office vibes. "One of the things that you find is when you're in this job," Obama told reporters on Tuesday, "you think about it differently than when you're just running for the job. And what you realize is what I mentioned earlier, that American leadership involves not just playing to a narrow constituency back home, but you now are, in fact, at the center of what happens around the world, and that your credibility and America's ability to influence events depends on taking seriously what other countries care about. … I think the President of the United States is going to need to think this is really important."