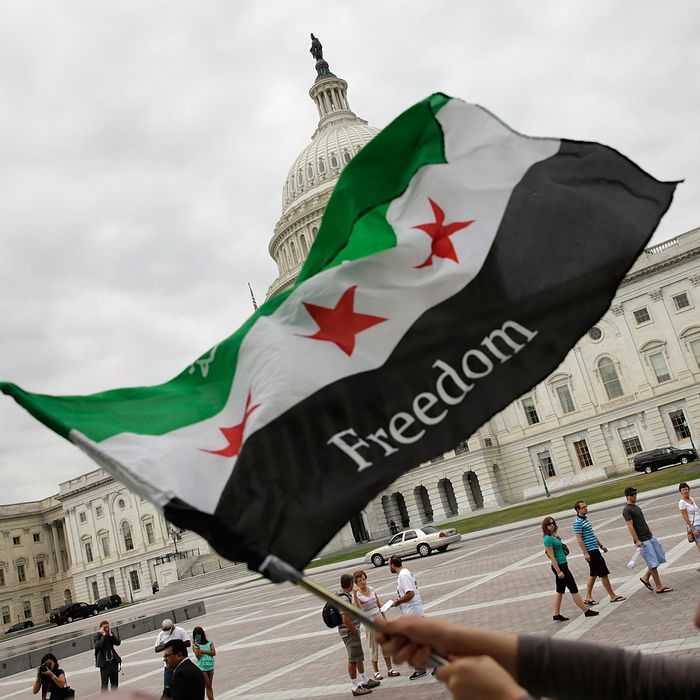 A protester waves the flag of the Syrian opposition in front of the U.S. Capitol building.
Photo: Win McNamee/2013 Getty Images
In early fall, a number of congressional Republicans vowed to defund Planned Parenthood even if it meant shutting down the government. Then after the terrorist attack in Paris, they decided keeping Syrian refugees out of the U.S. was more important, and called for attaching legislation that revamps (or rather halts) the screening process to the end-of-the-year spending bill. After weeks of negotiations and several extensions, Congress will spend Thursday and Friday voting on a massive omnibus spending bill and tax package that averts a shutdown — and does not address either issue.
So, were the 10,000 Syrian refugees the Obama administration intends to admit in 2016 saved by the lawmakers' desire to go home for Christmas? Not exactly. House Speaker Paul Ryan said on Wednesday that during the negotiations he and Senate Majority Leader Mitch McConnell agreed to deal with this urgent problem when they return from their break. "The majority leader of the Senate has given us a commitment that they will address this issue early in 2016," Ryan said. "So, the bill that we sent over there, we have a commitment from the Senate that they will bring up the refugee issue and that they will have a full debate on refugees."
Ryan was referring to legislation passed by 242 House Republicans and 47 Democrats last month that would halt the admission of Syrian refugees (who are already vetted extensively) until the Homeland Security secretary, the director of the FBI, and the Director of National Intelligence can sign off on each refugee. McConnell confirmed that he committed to addressing the issue in the first quarter of next year, but according to the Hill, it's unclear whether that means he'll take up the House bill or some other legislation. Senate Minority Leader Harry Reid said Democrats would block the legislation in the Senate.
Earlier this month, Republican representative Michael McCaul said putting more restrictions on Syrian refugees is "an important issue to many of us," adding, "Right now it is in the omnibus. If it's taken out, I think it will lose votes." Sure enough, Politico reports that Freedom Caucus members hate the omnibus bill, and suggested the omission of the refugee provision is a major reason why they won't be supporting it. "It's pretty bad," said Representative Jim Jordan, Freedom Caucus chairman. "How can you not put the refugee issue in there? It makes so much sense. We were clear that if that goes in and [we get] something pretty good on the pro-life [provisions they wanted], we thought we could get a number of us [to vote in favor]. But that's not going to happen."
Yet, rather than demanding a shutdown, they seem content to blame one last thing on former Speaker John Boehner, and give Ryan the benefit of the doubt. Republican leaders are also reminding their members that the omnibus does include new travel restrictions for foreigners that will prevent them from participating in the visa-waiver program if they've traveled to Syria, Iraq, Iran, or Sudan in the past five years.
For those lawmakers still eager to make restrictions on refugees even stricter, there may be an advantage to saving the fight for the new year (aside from not disrupting their holiday plans). A new Wall Street Journal/NBC News poll found that in September, 41 percent of Americans thought the U.S. should take fewer refugees or none at all, but now that number is up to 56 percent.