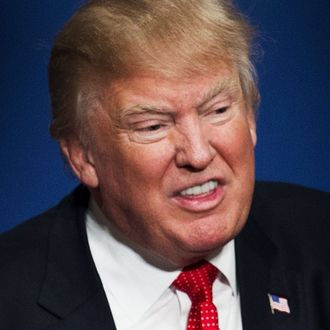 Photo: Saul Loeb/AFP/Getty Images; Alex Wong/Getty Images
After an extended period in which the unwieldy size of its presidential field has been an abiding concern for Republicans, the polls are now beginning to show a large and growing gap between the top four candidates and everybody else. If it persists, we could see a lot of casualties before or immediately after voters start weighing in on February 1 in Iowa. 
Two national polls released this week illustrate the dynamic. The December 2 Quinnipiac survey showed Donald Trump, Marco Rubio, Ted Cruz, and Ben Carson sharing 76 percent of the vote, while the other ten candidates totaled 15 percent. A new CNN/ORC poll today gives the Big Four 78 percent of the vote and the Little Ten 15 percent. 
You have to wonder if the wasting-away disease that earlier drove Scott Walker and Bobby Jindal out of the race is afflicting others. The Big Four's dominance appears to extend to Iowa, where they are credited with 77 percent of the vote in the RealClearPolitics polling average. In that state, of course, caucus preparations are often more important than statewide support data in determining the results. But although Mike Huckabee and Rick Santorum are beavering away at grassroots organizing in an effort to replicate their (respective) 2008 and 2012 Iowa wins, the candidates creating the most buzz among the conservative evangelicals who represent their common base are Ben Carson and (increasingly) Ted Cruz. 
New Hampshire is the one state where some of the Little Ten are showing signs of life, and that's not surprising since the Granite State is where Jeb Bush, John Kasich, and Chris Christie have invested a disproportionate amount of time and money. A new PPP survey of New Hampshire gives the Big Four a mere 60 percent of the vote, with everyone else sharing 36 percent. Kasich has 8 percent according to this poll, but the real mover is Christie, who just received an endorsement from the state's major newspaper, the Union-Leader. 
Meanwhile, the major candidate who isn't showing any progress anywhere is Jeb Bush, who's at a shocking 3 percent nationally in the new CNN/ORC poll, is at 4.7 percent in the RCP average for Iowa, and is at 5 percent in the PPP survey of New Hampshire. 
It may be time to reconsider the conventional wisdom about this race, which is that there are various "lanes" open to the field that reduce direct competition: an "outsider" lane for Trump and Carson; an "Establishment" lane for Bush, Kasich, and Christie; a "movement conservative" lane for Cruz, Huckabee, and Santorum. Right now it looks more like the Big Four — with Carson losing altitude daily — crushing the rest of the field, with New Hampshire offering a desperate struggle for survival that could entirely deplete the resources of any Little Ten candidate who becomes king of that very small mountain. 
The old saw is that there are in competitive presidential-nominating contests "three tickets out of Iowa" and "two tickets out of New Hampshire" in most years. The more basic reality could be that there are four tickets out of the Invisible Primary. If Ben Carson's recent drop in support turns into a plunge, we could soon be talking about a Big Three. And it's worth pondering the fact that this self-winnowing field has not yet produced anyone rivaling Donald Trump in levels of support.