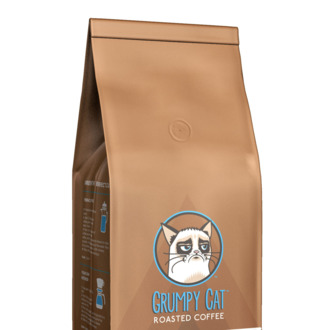 In a lawsuit filed last Friday, the handlers of web-famous-then-actual-famous feline Grumpy Cat filed a lawsuit against a California beverage company for — among other claims — copyright and trademark infringement.
Grenade Beverage was originally granted a license to produce (ugh) Grumpy Cat Grumppuccino, a bottled coffee beverage that the website Catster described as "definitely a drink." But that was all they authorized, Grumpy Cat's handlers say, and Grenade was not cleared to produce any other products. According to court filings, they're now suing Grenade and its owners Nick and Paul Sandford (as well as 50 John Does) for violating the agreement.
The depressing legal filing lays out the case of Grumpy Cat Limited, which begins, "Ironically, while the world-famous feline Grumpy Cat and her valuable brand are most often invoked in a tongue-and-cheek fashion, Defendants' despicable misconduct here has actually given Grumpy Cat and her owners something to be grumpy about." Great start.
Grumpy Cat sure is braggy!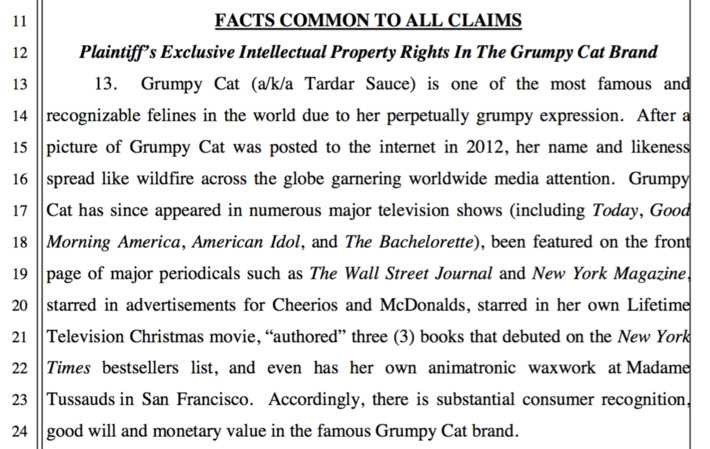 The crux of Grumpy Cat Limited's argument is that it only licensed the feline for the bottled coffee beverage, and does not approve of Grenade's move into Grumpy Cat–branded roasted coffee beans. Grenade also allegedly owns the URL drinkgrumpycat.com and is cybersquatting on grumpycat.com.
According to WHOIS results, drinkgrumpycat.com is registered to a Paul Sandford, though the organization is listed as "Grumpy Beverage LLC," and not, as the lawsuit states, "Grenade Beverage LLC." The WHOIS listing for grumpycat.com is anonymized, but it leads to a website identical to drinkgrumpycat.com. An email to Paul Sandford seeking comment was not returned as of press time.
Still, Grumpy Cat's team does make at least one dubious if not outright false claim in their lawsuit. The documents state, "Plaintiff's Grumpy Cat Trademarks have tremendous good will." Good luck proving that in court.