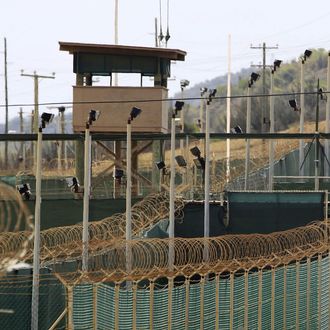 Definitely not Summer Camp
Photo: Bob Strong/Corbis
A report from U.S. defense officials released late Tuesday concluded that a man who has been a prisoner at Guantanamo Bay since 2002 was being held there due to a case of mistaken identity.
Mustafa Abd-al-Qawi Abd-al-Aziz al-Shamiri, now 37, was taken prisoner in Afghanistan after he was thought to be an Al Qaeda trainer fighting for the Taliban. Al-Shamiri did indeed fight for the Taliban in his youth, but U.S. forces confused him with another fighter with a similar name.

"Mustafa Abd-al-Qawi Abd-al-Aziz al-Shamiri (YM-434) fought in several jihadist theaters and associated with al-Qaida members in Afghanistan," the report says. "It was previously assessed that YM-434 also was an al-Qaida facilitator or courier, as well as a trainer, but we now judge that these activities were carried out by other known extremists with names or aliases similar to YM-434's."

The report went on to say that "fragmentary reporting" linked al-Shamiri to a role fighting in the Bosnian civil war in 1995. It is unknown whether al-Shamiri knew this, and the fact that he told interrogators about his participation in Yemen's civil war in 1996 may have contributed to the case of mistaken identity.
A statement submitted by al-Shamiri's representation at a hearing on Tuesday said he felt "remorse for choosing the wrong path early in life." According to the statement, al-Shamiri "Attended English classes, in addition to acquiring carpentry and cooking skills" while in detention.
There is no official decision yet on whether or when al-Shamiri will be the 49th prisoner cleared for release from Guantanamo Bay. The center currently holds 107 inmates.