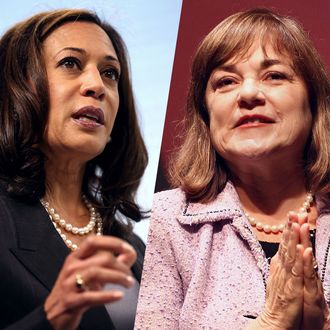 California Attorney General Kamala Harris and U.S. Representative Loretta Sanchez (Photo by Tommaso Boddi/Getty Images for INGENUITY)
Photo: Justin Sullivan; Tommaso Boddi/Getty Images/Getty Images
In 2010, as a result of a legislative compromise needed to get a state budget approved, California voters approved a ballot initiative that essentially abolished party primaries for non-presidential federal and all state offices, in favor of a "top two" system that let the first- and second-place finisher in primaries, regardless of party or percentage of the vote, compete in general elections. The initiative was first proposed by moderate Republican legislator Abel Maldonado (later, briefly, lieutenant governor under Arnold Schwarzenegger) and intended to loosen the grip of ideological factions and interest groups on party nominations and attract cross-party voting for moderates — you know, like Maldonado.
Maldonado subsequently lost a congressional race and abandoned a gubernatorial run before it really got started, so he hasn't benefited from his handiwork. But according to Sacramento Bee political columnist Dan Walters, it has helped build up a cadre of "pro-business" Democrats in the state Legislature who've won in the top-two system. Its most conspicuous test, however, could come next year, when Californians choose a successor to Senator Barbara Boxer. 
Right now both of the likely-to-be-dominant Senate candidates are Democratic women: Attorney General Kamala Harris and U.S. Representative Loretta Sanchez. They have many differences: Harris is from San Francisco; Sanchez is from Orange County. Harris identifies as both African-American and Asian-American, while Sanchez is a Latina. And beyond all that, Harris is the darling of party liberals, while Sanchez has been a longtime member of both the New Democratic and Blue Dog Coalitions in the House. Walters suggests this last factor, along with the failure of Republicans to recruit strong candidates of their own so far, could be crucial:
Attorney General Kamala Harris is the odds-on favorite to win the seat, but U.S. Rep. Loretta Sanchez, D-Garden Grove, is also running. With three underfinanced Republicans also seeking the seat, the situation is ripe for Harris and Sanchez to finish 1-2 in the June primary and face each other in November.

"There are several reasons Sanchez could win that showdown," [John] Pitney, a professor at Claremont McKenna College, asserts in a recently published article.

Sanchez is more of an ideological centrist, as shown by her most recent spate of endorsements, and thus would more naturally draw support from business and conservative groups, as well as Republican voters.

The gender divide would be neutralized, and Sanchez could pull Latino votes away from Harris.
The dynamics of the race could tempt Harris to appeal to moderates herself or lead her to focus on turning out progressives. And Sanchez has similar choices. If, however, Sanchez wins as the product of Republican voter preferences, you can expect the unpopularity of "top two" among Democratic liberals to reach alarm-bell dimensions.