The most important component of any holiday or major cultural event is the dirty chain text, as we explained a couple of weeks ago. Today's release of a new Star Wars film is one of the most important events of the year, and it wouldn't be complete without a dirty chain text to go along with it.
Sadly, none of our regular sources of dirty chain texts had specifically Star Wars–themed missives, which is definitely just an oversight and not because there is no overlap between the categories "has knowledge of Star Wars" and "has knowledge of sex."
So we consulted experts on both sides of the aisle and made our own.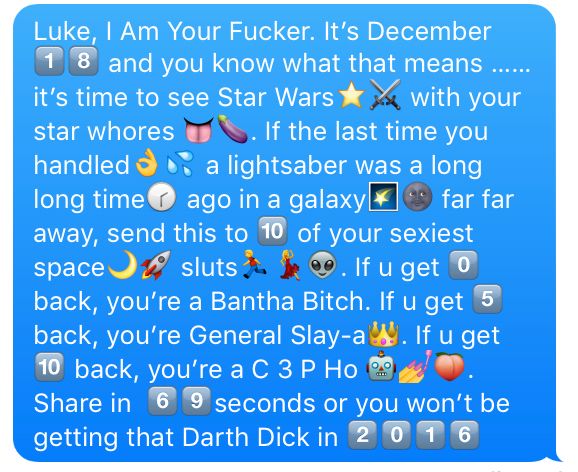 If you want to copy-paste it, here it is in text form.
Luke, I Am Your Fucker. It's December 1️⃣8️⃣ and you know what that means …… it's time to see Star Wars⭐️⚔ with your star whores 👅🍆. If the last time you handled👌💦 a lightsaber was a long long time🕝 ago in a galaxy🌠🌚 far far away, send this to 🔟 of your sexiest space🌙🚀 sluts🏃💃👽. If u get 0️⃣ back, you're a Bantha Bitch. If u get 5️⃣ back, you're General Slay-a👑. If u get 🔟 back, you're a C 3 P Ho 🤖💅🍑. Share in  6️⃣9️⃣seconds or you won't be getting that Darth Dick in 2️⃣0️⃣1️⃣6️⃣