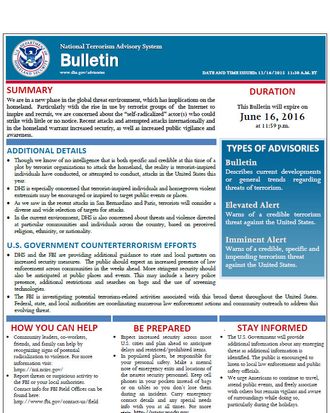 If you watched the GOP debate, you heard hours' worth of talk about the terrorist threat America faces. For those who prefer to find out about national-security dangers another way, the Department of Homeland Security has issued its first terror "bulletin." It's part of a revised National Terror Advisory System, meant to account for "intermediate" threats.
Right now the bulletin is asking the public to be on the lookout for "self-radicalized actor(s) who could strike with little or no notice," similar to the one in San Bernardino two weeks ago. 
These new bulletins are being worked into the current National Terror Advisory System (NTAS), which took the job of warning America from the post-9/11 color-code system in 2011. Previously, the NTAS system only allowed for alerts; an "elevated" alert was supposed to be issued when the U.S. faced a credible threat, and an "imminent" alert for a credible and impending threat. The burden on the government is pretty high to send out these warnings, and as a result, the NTAS has never actually been activated. The bulletins take stock of general threats — as with San Bernardino, the risk of individual actors carrying out attacks — and exist somewhere between "relax" and "take cover!" 
The bulletin issued today is in effect for the next six months, unless something alters the threat level against the U.S. These notices also let the public know of any specific security changes the government plans to take, and also give the public some safety and preparation tips like the official version of "see something, say something." The Guardian reports that the bulletins may be sent out for specific big events like concerts or sports matches.