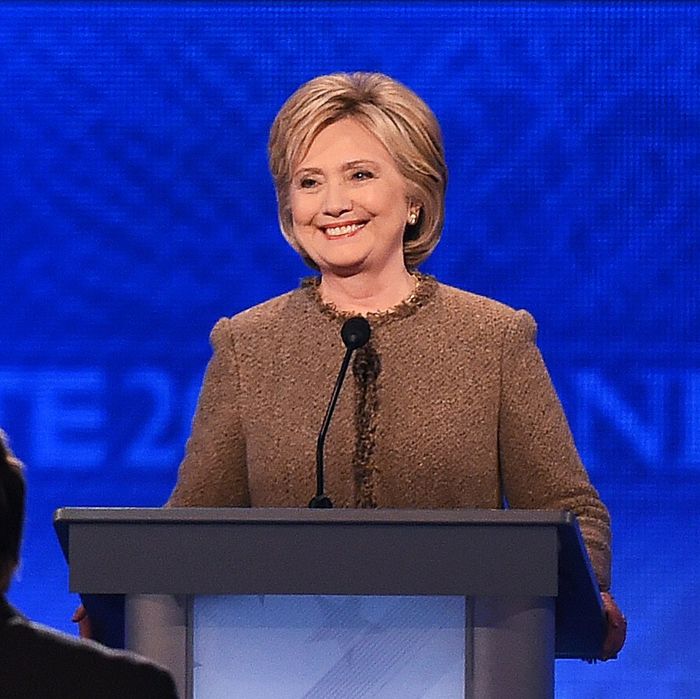 Next to the still-massive GOP debates, the Democratic alternative seemed downright intimate.
Photo: Jewel Samad/AFP/Getty Images
On Saturday night, Hillary Clinton, Martin O'Malley, and Bernie Sanders faced off in an occasionally spirited third Democratic presidential debate — the second-to-last before the Iowa caucuses. The event spanned issues such as national security, Donald Trump, gun control, and the recent DNC data breach. Clinton once again walked away as the likely winner, delivering confident responses across a range of topics — with the exception of a less-than-convincing defense of the Libya intervention. She also managed to insert what was surprisingly the night's only Star Wars reference, using "and may the Force be with you" in place of "and may God bless America" at the end of her closing remarks, which also closed the debate. Here's a look at some of the other highlights:
Everyone was united against Donald Trump, but no other GOP candidates received any attention.
Unsurprisingly, Donald Trump had zero fans on the stage, and the front-runner was the only Republican candidate specifically mentioned by the Democrats — something that will surely please Trump and dismay the rest of the GOP field. In particular, it was Trump's perceived bigotry towards Muslims that drew the most ire, with Clinton calling Trump "ISIS's best recruiter" while insisting that his rhetoric was making the world a more dangerous place. Clinton also said that extremists were "showing videos of Donald Trump insulting Islam and Muslims in order to recruit more radical jihadists," but so far there does not seem to be any evidence that that has actually happened.
For his part, Sanders wanted Trump supporters to know that their candidate only cared about rich people, and added that the GOP front-runner's inflammatory rhetoric was designed to take advantage of a very dangerous moment in American history:
Somebody like a Trump comes along and says: 'I know the answers! The answer is that all of the Mexicans, they're criminals and rapists. We gotta hate the Mexicans, those are your enemies. We hate all the Muslims, because all the Muslims are terrorists, we gotta hate the Muslims.' Meanwhile the rich get richer and the poor get poorer.
Meanwhile, O'Malley declared that American values must never surrender to racists or the the "fascist pleas of billionaires with big mouths."

ABC was ready — but not waiting — for Hillary, and later asked a stupid question about first spouses.
Hillary Clinton was involved in probably the two strangest moments of the debate, both the fault of ABC. To start, after the first of three commercial-break intermissions (complete with awkward sportscast-like commentary), ABC returned with only Sanders and O'Malley present on stage. Moderator David Muir awkwardly acknowledged Clinton's absence, only indicating that she would rejoining them shortly, and then moved into a question for Bernie Sanders. About a minute later, mid-question, Clinton walked out from backstage to applause from the crowd and offered a "sorry" when she reached her podium, drawing laughter. This was the second debate in which Clinton had been late returning from a break, but why ABC chose to resume the broadcast when all the candidates weren't present is unclear.
Even less clear is why ABC thought it made sense to ask, as one of their final questions of the night, about potential first-spouse duties. On a night when neither climate change nor China came up in the debate, producers instead chose to ask the candidates whether the role of presidential spouses needed to change, though they tried to make it sound like the question — originally to Clinton — was not connected to the idea that a man might be soon taking the role. In her response, Clinton indicated she would definitely deploy Bill on serious duties, but also joked that "with respect to my own husband, I am probably still going to pick the flowers and the china for state dinners and stuff like that." It was a decent quip, but she arguably should have just deflected the question entirely, as her campaign quickly did following the exchange:
Here's video of the first-spouse question and answers:
Bernie Sanders apologized for his campaign's role in this week's data breach.
The buzz going into the debate — from the Sanders campaign — was that their candidate would use the debate to vigorously push back against the Democratic establishment in light of the campaign's dustup with the DNC over Wednesday's data breach, during which Sanders campaign staffers had downloaded some Clinton campaign data. Sanders did partake in some finger-wagging, but pretty much only in response to the first question of the debate, which was specifically about the incident. He acknowledged the breach, both data and ethical, and, when prompted, apologized to both Clinton and his supporters for what had happened. He nonetheless also insisted, as his campaign has over the last few days, that it was the DNC and their data vendor who were most at fault for the breach, and he decried the DNC's resulting one-day suspension of his campaign's data access. Later on everyone on stage agreed it was not an important topic, and indeed it did not come up again. Whether the Sanders and Clinton campaigns will subsequently tone down their mostly Tweeted rhetoric remains to be seen, but there also came news after the debate that two more Sanders campaign staffers had been suspended as a result of the breach, following the firing of the campaign's national data director on Friday.
Martin O'Malley probably didn't win anyone over.
Right out of the gate, an overly-animated O'Malley was trying to bolster his severely flagging campaign and outright bluster his way into the conversation. After the very first question — about this week's DNC data breach — he delivered what was presumably prepared outrage about Sanders and Clinton bickering over such an unimportant story — except they hadn't just been bickering. Things only got worse from there, as O'Malley tried to interrupt other participants only to be repeatedly — sometimes brutally — rebuked by the moderators and, at one point, his opponents, who teamed up to dismiss O'Malley after listening to him loudly attack them on gun control. Sanders responded to that outburst, in his classic Brooklyn accent, "Whoa, whoa, whoa … let's calm down a bit, Martin," and then Clinton added, "Let's tell the truth, Martin." (It's worth noting, however, that Sanders then went off on his own not-terribly-calm tangent defending himself.) For the rest of the debate, O'Malley was indeed calmer, but continued to make few contributions of consequence.