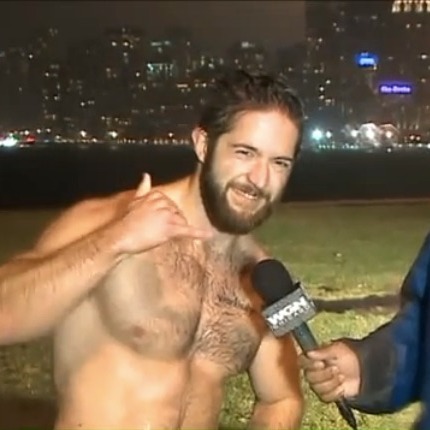 A sexy shirtless man running along Lake Michigan on Sunday night, his considerable muscles rippling in the rain, became the star of a local newscast and, shortly thereafter, the internet's most eligible bachelor. Ethan Renoe, now known everywhere as "the shirtless wonder" thanks to Chicago's WGN, is ripped, single, and trending on that little news box next to your Facebook feed.
"It's really been crazy," Renoe told WGN in a follow-up interview, during which he was unfortunately wearing a shirt, "I have about 900 friend requests right now."
The original video has been viewed more than 1 million times in less than a day.
He had told WGN in his brief, rain-soaked interview that he was single, a fact he confirmed again Monday morning. He also clarified "for the record" that he's straight. We also discovered that Ethan is a personal trainer, based in Colorado, who has glasses and a blog.
And on that blog, we learned that Ethan believes in God and is reconsidering his unsatisfying relationship with porn.
That all seems a little bit too complicated and human, though. The shirtless wonder was more fun when he was just a muscly vessel for the hopeless dream of getting in good shape in the middle of December.
If you're interested in him, ladies, he invites you to get in touch on Twitter.