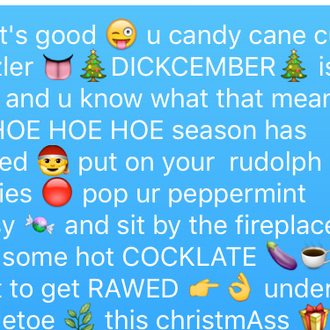 "What's good?" my text to Tom began. We'd only been on five dates, and it didn't seem like the relationship was going in the right direction. We planned to meet up and discuss whether we'd continue, but I was pretty sure we were done. I wanted to send him a text before we saw each other. It continued:
"😜 u candy cane cum guzzler 👅🎄DICKCEMBER🎄is here and u know what that means ❄ HOE HOE HOE season has arrived 🎅 put on your rudolph panties 🔴 pop ur peppermint pussy 🍬 and sit by the fireplace with some hot COCKLATE 🍆☕if u want to get RAWED 👉👌 under the  mistletoe 🌿 this christmAss 🎁 send this to 15 of your sluttiest elves 👩👨 if u get 0 back 😔 ur an UGLY GRINCH👀 if u get 5 back 😌  🔥🙌 SHARE in 69 😉💦 seconds or you won't be gettin dicked down 😱 in 2❕0❕1❕6"
I can't claim to have come up with something so poignant and poetic on my own. I'd copy-and-pasted a chain text my friend William sends me monthly. Last month's:
"It's the end of COCKtober 😫🎃🍆 but that means the beginning of 💦💦💦 HOEvember!! 💦💦👅 get ready 😱 for SPANKS-GIVING 👋😏🍑 send this to 1️⃣4️⃣ hoes who need to be spanked 🙌🏼 by daddy 💘👦🏽🗣 if you get this message 📧💌 you will get a special 😲 spanking 👏 from SUGAR DADDY 🤑💰💶 forward this to 1️⃣4️⃣ fuckgirls 💁💋👛 to get some 🍑👈 in-the-BUTT-ACTION 💨 If you don't, 😖 be prepared 😰 for 6️⃣9️⃣ days without the D ❌🚫🆘"
These dirty chain text messages have been around for a while. If you're friends with a particular type of smartphone-owning person, you might have received one of these messages already. (On Mic.com, Jack Smith IV likens the messages to "the kind [of chain mail] you'd get from superstitious aunts telling you to immediately forward it along to 10 other people or suffer bad luck or a broken back.") Many of them coincide with a holiday, or the beginning of the month — when they act as a sort of sexier "rabbit rabbit rabbit" — but others deal with the transition from childhood into adolescence, hotboxing at church, and most unfortunately, "daddies who give you cummies."
The form is simple: excessive, inventive use of emojis, hilariously explicit sexual content, and a threat of a terrible curse if you don't pass along the message. They're all written with tongue planted firmly in cheek (or elsewhere), as you'll see when browsing the excellent Tumblr that collects them.
I was pleased to receive my early-December text because romantically speaking, 2015 has been less than great for me. For the first half of the year, I became unfortunately entangled in an affair with a man 20 years my senior. Once out of that, I casually dated, but everything fizzled out or ended poorly. In 2015, I was sad and anxious about every romantic tryst I had; nothing was particularly fun. And I was tired of not having fun. The last thing I wanted was a 2016 without getting dicked down. So, following instructions, I sent the Dickcember message to every guy I went out with since September.
There's Matt, a hot Harvard guy I met when I was a barista. It took me giving him about 15 free shots of espresso until he finally asked me out. We went on some fun dates, but he ended things pretty unexpectedly. "i don't want to be disingenuous with you," he wrote me. "a thing with this person that was off kind of became on again. which changes my situation a bit." Does this change your situation, Matt?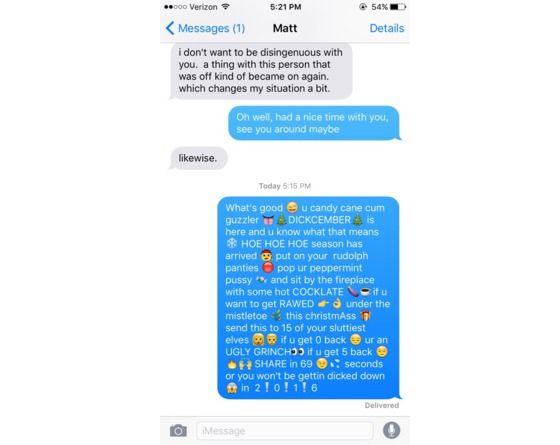 Matt never replied, which means he'll be receiving these texts monthly until he responds or one of us dies.
After a brief L.A. fling with an older guy, I found Ian back in New York. We matched on Tinder about a year ago and never ended up meeting, but I ran into him at a friend's party and we hooked up a week later. We'd texted back-and-forth a bit, but I think we both felt largely indifferent about continuing things, so we never met up again.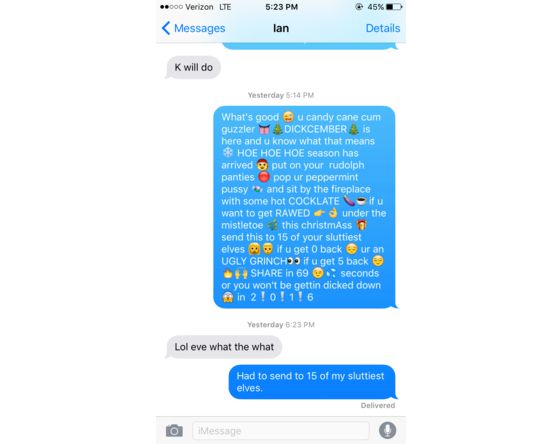 "What the what" is not the response of a man who wants to get dicked down in 2016. He goes on the naughty list.
Sam slid into my DMs to ask me out for drinks shortly after Ian. I would've liked to go out again, but I got the sense this would be a one-off thing, partly because he was so good at parrying my "want to hang out" texts. I was ultimately okay with all that.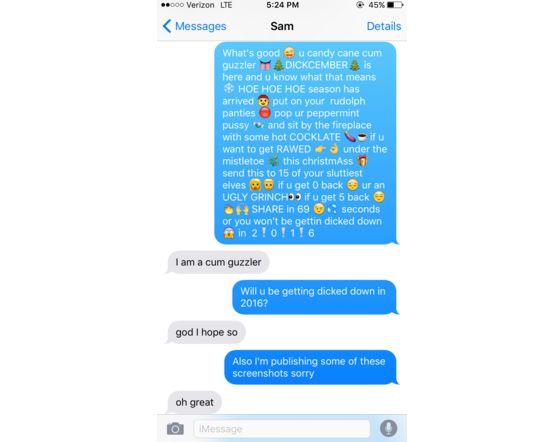 Lackluster and uninterested. Coal for Sam this year.
Which leaves us with Tom. Tom and I went on a series of nice dates, and then some less nice ones. I was feeling weird about our last date, so I sent him a text message effectively breaking things off. He asked that we talk about it in person; I sent him my DICKCEMBER text.
Before I sent the DICKCEMBER texts, I wasn't particularly looking forward to meeting up with Tom. But walking to the bar, I felt oddly giddy and carefree. My past romantic rejections, my occasional regrettable casual sex, the stressful game that is dating: None of it felt serious anymore. It was Dickcember, and I was celebrating.
Matt's thing with that person that was off kind of becoming on again? No biggie. I'll keep popping that peppermint pussy. Joe lives in L.A. so things didn't work out, but so what? I can still get rawed under the mistletoe. Sam was only into me for the night, but who cares? I can find someone else's candy-cane cum to guzzle.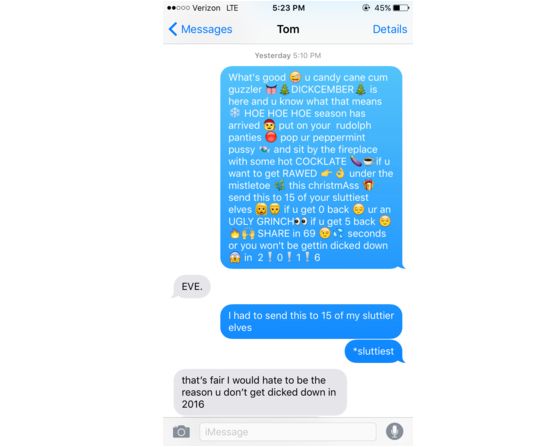 I found Tom sitting in a booth at the back. We talked about our weird dates, we talked about Dickcember, and we made out a little bit. Did I want to spend my Dickcember with Tom? I did. Was I an UGLY GRINCH? No. I knew I was getting dicked down in 2016, and for that I could thank the anonymous author of the best dirty chain text I'd ever received and passed on.