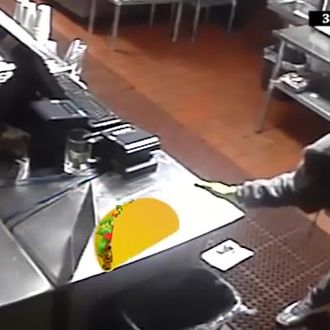 The Las Vegas taco joint Frijoles and Frescas is trying to find two men who broke into their store last week, while also using the incident as a form of viral marketing for their tacos.
In the video, two thieves smash the front door with a rock (it takes multiple attempts) and then run through the place, apparently searching for food before settling for the cash register.
"Please help us find these guys," the video pleads. "So we can get them the tacos they rightfully deserve."
As of today, the video has collected more than 1.17 million views in less than a week. "The idea was to provide something that the public could help us with to find the thieves, but at the same time, try to see the lighter side of what happened," manager Greg Carlson told Eater.
When will online shaming stop? Where's Jon Ronson when you need him?