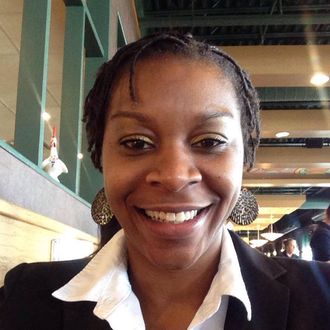 Sandra Bland.
Photo: Facebook
A grand jury decided on Monday that no one will be indicted in the death of Sandra Bland, who was found hanged in a Texas jail cell in July, according to the AP. Bland, a 28-year-old black woman from Illinois, was arrested for assault on July 10 after being pulled over for an improper lane change. Three days later, she was found hanging from a plastic garbage bag in the Waller County Jail. Her death was ruled a suicide by the county coroner, but her family has contested that finding, and her death sparked protests across the country by Black Lives Matter supporters.
"After presenting all the evidence as it relates to the death of Sandra Bland, the grand jury did not return an indictment," prosecutor Darrell Jordan said. "The grand jury also considered things that occurred at the jail and did not return an indictment." Jordan said the grand jury will reconvene in January to consider whether Brian Encinia, the Texas state trooper who arrested Bland, should face charges.
Dash-cam video of Bland's arrest shows that their interaction escalated quickly, with Encinia ordering Bland out of her car when she refused to put out her cigarette. After a physical struggle, Encinia stepped back from the vehicle, pointed a stun gun and said "I will light you up." Bland steps out of the camera's view, and the altercation continues. At one point Bland says, "You just slammed me, knocked my head into the ground." She tells Encinia she has epilepsy and he replies, "Good." In the arrest affidavit Encinia says Bland kicked him in the leg and was "combative and uncooperative," but says nothing about the Taser. He has been on administrative duty since Bland's death.
Bland's mother, Geneva Reed-Veal, has filed a wrongful-death suit against Encinia, the Texas Department of Public Safety, Waller County, and two jail employees. At a press conference hours before the announcement, Bland's family members said they have no faith in the investigation by the Texas Rangers, or the grand jury proceedings. A lawyer for the family said they haven't been able to examine the official report on the incident because it's grand-jury evidence. "Right now the biggest problem I have is the entire process," Reed-Veal said. "It's the secrecy of it all."