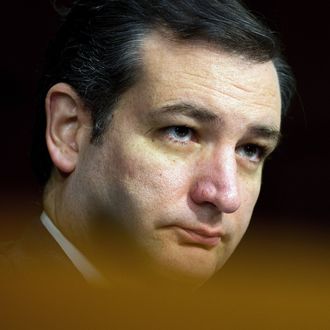 Ted Cruz started running for president — and against the Senate — from his first day in office.
Photo: Jim Watson/AFP/Getty Images
One undeniably true item of conventional wisdom about the 2016 GOP presidential nominating contest is that experience in elected office suddenly does not help candidates and may be a terrible handicap. Consider this: The four candidates who have already dropped out of the contest (Rick Perry, Scott Walker, Bobby Jindal, and Lindsey Graham) have a combined résumé of 86 years in elected office. The four who lead most polls (Donald Trump, Ted Cruz, Marco Rubio, and Ben Carson) together have 16 years of experience in elected office, and 13 of those are possessed by the "youth candidate," Marco Rubio.  
The disparity could get worse. Mike Huckabee and Rick Santorum are widely expected to drop out by the day after the Iowa caucuses. They represent a combined 29 years of elected experience. If John Kasich drops out — a fairly likely proposition if he doesn't have a breakthrough in New Hampshire, where he's currently fifth in the RealClearPolitics polling averages — another 27 years of elected experience will go down the drain. Without much of a stretch, we're up to 142 years of credentials that the GOP rank-and-file will most likely have rejected by the second week in February.
While the "outsider" credentials of Trump, Carson, and Carly Fiorina have gotten a lot of attention, along with some retroactive mockery of a lot of "year of the governor" predictions, less noted has been the effect of this "year of inexperience" on the viability of the marginally experienced. Chief among them is Ted Cruz, who more or less began running for president the day he took his Senate oath less than three years ago. And arguably another beneficiary is Rubio, who seems like a grizzled veteran at this point, which certainly won't hurt his aspirations to become the Establishment candidate even though he's a first-term senator and was seen as a tea-party bravo as recently as 2010.
If, as many observers believe, the contest boils down to a Cruz-Rubio battle, it will involve two freshman members of the U.S. Senate, one of whom devotes most of his time to attacking that institution (Cruz), and another who is laboring to live down his only notable legislative accomplishment (Rubio and his comprehensive immigration-reform bill). And Beltway Republicans will feel fortunate to have that choice, instead of you-know-who.