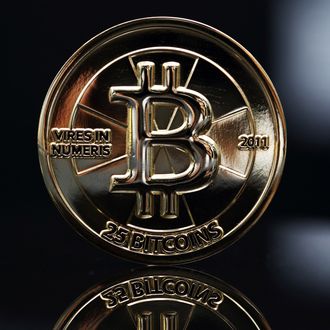 A twenty-five bitcoin is arranged for a photograph in Tokyo, Japan, on Thursday, April 25, 2013. The digital currency, which carries the unofficial ticker symbol of BTC, was unveiled in 2009 by an unidentified programmer, or group of programmers, under the name of Satoshi Nakamoto. Supply is capped at 21 million Bitcoins and managed by a software algorithm embedded into the digital currencys design, rather than a monetary authority such as a central bank.
Photo: Tomohiro Ohsumi/Bloomberg via Getty Images
Thought you'd escape 2015 without another intense investigation into the real-life identity of Bitcoin creator Satoshi Nakamoto? Think again. This afternoon, Wired published the results of a weeks-long investigation into Craig Steven Wright, an Australian economist and cryptographer, with compelling evidence that matches Wright to the few details known about Nakamoto.
The identity of Nakamoto, who publicized the concept of a decentralized peer-to-peer currency in a 2008 whitepaper, has never been revealed. That hasn't stopped people from feverishly speculating. Wired's case — based on archived blog posts, financial records, and leaked documents, with no confirmation from Wright — is the most compelling of the many candidates that have been previously named. In years-old blog posts cited by Wired, Wright discusses concepts that would later form the core of the Bitcoin whitepaper published in November 2008; another post seems to mention Bitcoin before its official launch.
Perhaps the most persuasive evidence is that Wright is likely linked to a PGP encryption key known to be used by Nakamoto as well. "[The key,] when checked against the database of the MIT server where it was stored, is associated with the email address satoshin@vistomail.com, an email address very similar to the satoshi@vistomail.com address Nakamoto used to send the whitepaper introducing bitcoin to a cryptography mailing list."
There's also the question of Nakamoto's stash of 1.1 million Bitcoins, which is recorded on the blockhain, Bitcoin's public transaction ledger. Documents leaked to Wired show evidence of a fund called the Tulip Trust. According to the report, Wright's company, "Tulip Trading, built two supercomputers that have officially ranked among the top 500 in the world, both seemingly related to his cryptocurrency projects."
Again, all of this reporting is based off of archived blog posts, financial records, and leaked documents. Wright himself did not supply any information or volunteer a quote.
"But wait!" you're saying. "Didn't someone already unmask Satoshi Nakamoto back in 2014?" Supposedly! In their first issue following their resurrection, Newsweek fingered an American man named Dorian Satoshi Nakamoto as the culprit, after "scouring a database that contained the registration cards of naturalized U.S. citizens." Nakamoto has repeatedly denied that he created Bitcoin, and the report had some serious holes poked in it. (Newsweek, for the record, stands by the story.)
In May of this year, the New York Times pointed to a man named Nick Szabo as the cryptocurrency's inventor. Szabo, who is involved in the Bitcoin cottage industry, also adamantly denied inventing the system.
On Tuesday, Gawker and Gizmodo published their own separate investigation into Wright and his partner, Dave Kleiman, based on a tip and leaked information provided by a source who claimed to have hacked Wright.
Leaked emails appear to show Wright in control of the Satoshi@vistomail.com email address that Nakamoto used in the early days of Bitcoin to converse. Wright spoke to Gizmodo twice via phone, appearing to confirm the leak's authenticity: "An audibly unsettled Wright asked, 'How did you get that?' and stated, 'You shouldn't have that.'" Acquaintances of Wright mentioned in the emails were uniformly cagey and unresponsive on whether Wright had invented Bitcoin, but did not deny the assertion.
Also included in the cache of leaked documents cited both by Wired and Gizmodo is a transcript of a meeting Wright had with the Australian Taxation Office, attempting to persuade the government to treat bitcoin as currency instead of another type of asset, and therefore subject to a lower tax rate. According to the transcript, he said "I did my best to try and hide the fact that I've been running bitcoin since 2009 but … by the end of this I think half the world is going to bloody know."