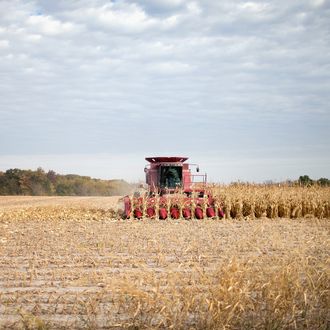 Presidential candidates must keep their focus on Iowa until they are released from captivity on February 1.
Photo: Scott Olson/Getty Images
Earlier today I noted that one of the problems Mario Rubio is having in Iowa is that he's not (in the judgment of Iowans!) spending enough time in the state, and also hasn't built a strong (and lavish-spending) field organization. So, for the most part, the only entities being enriched by his campaign are national political consultants and TV and radio stations, often owned by out-of-state interests. 
But Rubio's not the only candidate being warned not to stray too far away from the First in the Nation Caucus state. There is also the new leader in Iowa polls, Ted Cruz. Here's how the influential proprietor of the Iowa Republican website, Craig Robinson, congratulated Cruz on his Iowa success today:
After this week's GOP debate in Las Vegas, Cruz is spending an entire week flying around hosting rallies in the southern states that will hold their primaries on March 1st.   This is the week before Christmas, essentially the best time to campaign in Iowa until after the new year. If it were me, I'd want to come back to Iowa ASAP to cash in on my momentum.

I had the same thoughts about Newt Gingrich's 2012 campaign as I have about Cruz now. I remember attending a packed townhall meeting in Jefferson, Iowa on November 14, 2011. I remember telling his aides that night that if Gingrich just did townhalls across the state for the next five-six weeks he would win the caucuses. Gingrich surged in the polls, and then things got weird.

Gingrich started visiting zoos, small businesses, and classrooms. Sure the attacks from Romney's Super PAC started to blast him, but Gingrich was amazing in a townhall setting. He could quickly disarm the attacks on his record while showing his skills as an effective communicator. Frankly Gingrich lacked discipline and focus in Iowa, and on December 19thI published a column entitled, "Why Gingrich Must be Present to Win."

Gingrich took Iowans for granted, and Cruz could be making a similar mistake. Like Gingrich, he is beginning to be attacked. He himself is the best defense mechanism his campaign has in its arsenal. Campaign all you want in the southern states after Iowa.

Imagine how different things would have been if Gingrich had won Iowa and South Carolina? Iowa is now a must-win state for Cruz. He would be foolish to take their eye off the prize.
Iowa snowbirds can spend some time in the dead of winter sunning themselves down South, but not presidential candidates. The SEC primary, by the way, is on March 1, which isn't that far off and is a crucial opportunity for Cruz.
Yes, the Corn God is a jealous God. It will have its quadrennial due, or there will be hell to pay. That means you, too, Hillary, or didn't you learn your lesson in 2008?