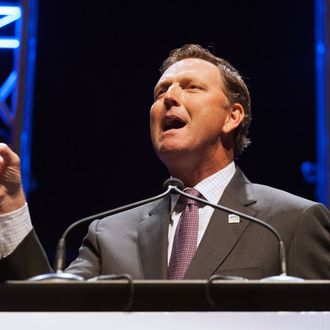 Whether he's a "kingmaker" or just an accurate weather vane, a presidential endorsement by Iowa social conservative leader Bob Vander Plaats is a pretty big deal.
Photo: Brian Frank/Reuters/Corbis
Sometimes Bob Vander Plaats, the longtime head of the Family Leader organization, a key Iowa Christian-right institution, is called a "kingmaker" in Republican presidential politics. I'd say he's more like a man who is adept at picking the right parade to leap in front of in a full drum major's uniform. In either event, his endorsement of Ted Cruz today (along with his Family Leader sidekick, Chuck Hurley) could represent a signpost in the long, crowded battle of multiple Republican presidential candidates to win, place, or show in Iowa via a particular appeal to politically mobilized conservative Evangelicals. 
One contestant for this constituency, Louisiana governor Bobby Jindal, has already dropped out. If Vander Plaats's political instincts are as sound as they were when he endorsed caucus winners Mike Huckabee in 2008 and Rick Santorum in 2012, both of those candidates will soon be "winnowed" as well. If they can't make it there, they won't make it anywhere. And while he's not as invested as those candidates in Iowa alone, Dr. Ben Carson's initial appeal to the Evangelicals who know him so well from his books and his personal "story" could be fading first in Iowa, later elsewhere. 
For Vander Plaats, getting this right is a very big deal. Aside from playing in national and state-level Republican politics, the primary recent raison d'être of the Family Leader was to purge the State Supreme Court of judges who made Iowa an early state in the march toward marriage equality for same-sex couples. That was all washed away, probably for good, by the U.S. Supreme Court earlier this year. "Making" kings is a pretty good plan B. Team Cruz hopes Vander Plaats is as accurate a weather vane as ever.