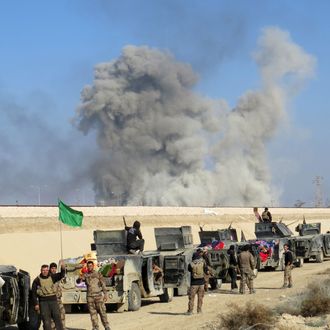 Iraqi forces believe they are on the cusp of retaking one of the largest cities captured by the so-called Islamic State. Operations to liberate Ramadi have been ongoing since November, but security officials are saying that troops and Sunni tribal fighters have regained control of several districts in the last 48 hours, and are now advancing on the city's main government complex.
"In the coming days will be announced the good news of the complete liberation of Ramadi," Lieutenant General Othman al-Ghanemi told Iraqi state television, Reuters reports.
Provincial officials told the BBC that most of the city's ISIS militants have fled or died since the government's onslaught started in November. According to General al-Ghanemi, only 300 militants remain, holed up in the city center.
The fall of Ramadi to ISIS militants last May was an especially humiliating defeat for the Iraqi government. The city is located 60 miles west of Baghdad, in the nation's Sunni heartland.
To avoid inflaming sectarian tensions, the Iraqi government has rejected the aid of the Shia-dominated paramilitary force that helped retake the northern city of Tikrit. That decision has likely delayed victory in Ramadi. But it has also allowed Iraqi security forces the opportunity to claim their first major success without the aid of Shia or Kurdish tribal fighters. Former Iraqi national security adviser Mowaffaq al-Rubaie told the BBC that such an independent triumph would give the nation's fledgling military a "huge moral and strategic boost."
But victory is still far from assured. Iraqi security forces will have to contend with the small but highly committed remnants of the city's ISIS fighters, along with "an urban landscape laden with hidden explosives," the New York Times reports.
Further complicating matters are the thousands of civilians who remain trapped in Ramadi. According to the BBC, jihadists carried out mass arrests in recent days, in an effort to prevent the local population from joining the Iraqi state's effort to overthrow ISIS rule.

"It's a very, very difficult battle," Muhannad Haimour, special adviser to the governor of Anbar province, told the network. "Especially with so many booby-traps, explosives and sniper fire against the security forces and tribal fighters."