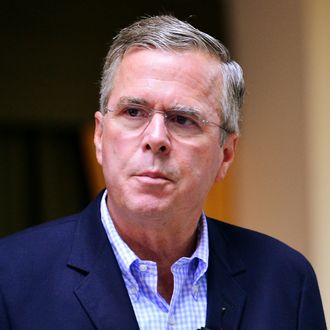 Oh, Jeb.
Photo: Johnny Louis/FilmMagic
Jeb Bush has always had an interesting strategy when it comes to his family's legacy. While many predicted that he'd avoid talking about his brother on the campaign trail, Jeb chose to lean in; he kicked things off by repeatedly discussing Iraq, then saying W.'s "mission was accomplished" there.
So while some might advise Jeb not to carry on his brother's tradition of giving people inappropriate nicknames, particularly if they reference one of the biggest debacles of the second Bush administration, the candidate chose to do the exact opposite. After he was introduced by State Senator Katrina Shealy in South Carolina on Wednesday, Bush announced that henceforth she would be known as "Hurricane Katrina":
Unfortunately for Bush, this strategy has yet to produce George Costanza-esque results. Later in the day he got a little confused when asked about the shooting of 12-year-old Tamir Rice by police. "I think that Chicago has a lot of work to do to rebuild trust. The level of violence is abhorrent," he said. When a reporter noted that Rice was killed in Cleveland, Bush answered, "Oh I'm sorry. My bad. In every community where you have these cases the elected officials and the police chief need to engage with the community to rebuild trust, but the process worked. If there's a grand jury that looks at all the facts and doesn't indict maybe there's reasons for that."
To be fair, being forced to cancel millions in early state advertising and redeploy dozens of staffers will throw a candidate off his game.