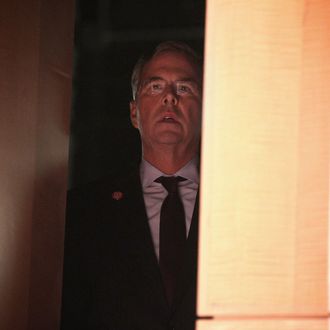 That's me in the corner.
Photo: Alex Wong/Getty Images
Back in October, Daily Intelligencer made a list of the 12 most depressing things that had been said by Jeb Bush donors desperately trying to convince themselves that their candidate could still win. Since then, things have only gotten worse. The former Florida governor has gone from having a less-than-impressive 8 percent in the primary polls to having an even sadder 4 percent. The campaign included a link to a video from June, according to the New York Times, of someone spray-painting "All in for Jeb" on the side of a Dumpster for a recent fund-raiser invitation — which may have sounded cool back in the early summer, when everyone still thought Bush might win this thing, but now it just reminds everyone that Bush's campaign has sort of been a Dumpster fire. 
If you thought a lobbyist describing the Bush campaign by saying, "The patient is either in intensive care and in need of some good doctors who can save him or being put into hospice and we're going to see a slow death," was the saddest thing you could possibly imagine, you were wrong.
Here is a look at some of the "George Michael walking while music from Peanuts plays"-esque things Bush fans have said about his campaign lately. A few of the statements do not appear depressing on their own, but they earn that veneer when compared to the reality of the 2016 campaign. 
12. Bush supporter Sherry Plymale:
I don't think that Jeb's done yet. … This time has been a little odd, but I do think we'll see things evolve.
11. Jeb Bush:
I have enough self-awareness to know that this is the bumpy time of a campaign. … Look, I know that I got to get better at doing the debate. I'm a grinder. I mean, when I see that I'm not doing something well then I reset and I get better.
10. Florida Bush supporter Tramm Hudson:
He said he does not suffer from lack of self esteem, he's not feeling down.
9. Anonymous person in Bush World:
What he needs is somebody every morning to pump him up and tell him 'why you need to be the best damned candidate.'

8. Voter at a Bush event in Iowa:
I just don't think this is his year. It's nothing personal.
7. Anonymous donor:
We're not gonna sugarcoat it. It's bad.
6. Super-pac donor Mike Fernandez:
I am like the Israelites following Moses, and I am not the only one. Unfortunately, it might not be that many of us.
I do not need to be with a winner. If Jeb steps down tomorrow — which he will not — I will not switch to the next guy. I will go down with Jeb or I will win with Jeb.
People who are with Jeb believe in Jeb, and also think that over time the laws of physics will take shape and sort things out the right way.

3. Anonymous donor:
I suspect they know they're in a death spiral now. There's no getting out of this.
2. Sam Fox, former chair of the Republican Jewish Coalition:
I'm just telling you that in my opinion, out of all those who're running, Jeb is the only one that would make an outstanding president [but] anyone that says at this point that he's going to win, let him go see a psychiatrist.
1. Anonymous donor asked how he is coping by the Washington Post:
Alcohol.