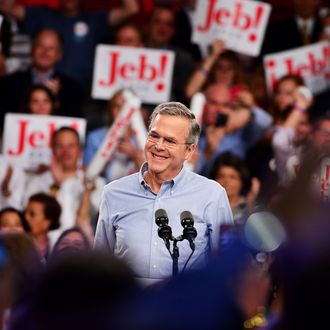 Jeb!, in happier times.
Photo: Johnny Louis/FilmMagic
In some kinder corner of the multiverse, Jeb Bush is settling in for a lovely holiday in Kennebunkport right now, his Christmas spirit buoyed by double-digit leads in Iowa and New Hampshire, where adoring supporters stuff their stockings full of hair bands and key chains branded with his name.
But in our universe, the former Florida governor will end the year with his presidential hopes on life support and his aspirations for a line of branded key chains in serious jeopardy – Mother Jones reports that Bush has abandoned all efforts to trademark "Jeb!"
Last winter, a Delaware corporation called BHAG LLC filed a request to trademark that four-character slogan. Mother Jones later discovered that BHAG was an acronym for Big Hairy Audacious Goal, a phrase taken from one of Bush's favorite business-management books. When the presumed GOP front-runner filed his financial-disclosure form in July, he revealed himself to be BHAG's direct owner.
In the original application, Bush sought to reserve the high-energy version of his name for stadium cushions, stemware, stuffed toys, hair bands, and leather key chains. But the candidate failed to submit a personal written consent form within six months of the government's request, and so the United States Patent and Trademark Office has issued an abandonment notice, clearing the way for the rest of the nation's Jebs to trademark the exclamation of their own names.
Sadly, America's Trumps will have no such opportunity. The Donald goes into Christmas with a 21-point lead in CNN's latest national poll AND a recently renewed trademark on his fabulous last name.
Sources