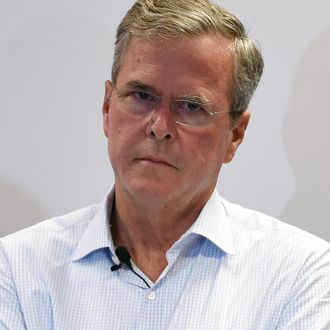 Jeb! excitement now confined to a small group on Walll Street.
Photo: Ethan Miller/Getty Images
In what is likely one of the final national presidential polls of 2015, from CNN/ORC, Jeb Bush comes in at 3 percent, a fairly typical result for him in recent weeks. A year ago, a survey from the same pollster put Jeb at 23 percent.  Tracking CNN/ORC through 2015, we see Bush's support number bump along in the teens in the spring and summer, and then drop into the high single-digits in September and October, before plunging to its current dire condition last month.  
Jeb is doing slightly better in Iowa and New Hampshire, where his super-pac has done heavy TV advertising, but all in all, his failure has been nearly as big a story as Trump's shocking dominance. 
So in that context, it's interesting to see Bush actually win a who's-going-to-win straw poll among readers of Politico's Morning Money "tip sheet" (Political intelligence on the intersection of Washington and Wall Street). These presumably shrewd observers either know something the rest of us don't and can't perceive, or they are projecting their threatened faith in Establishment Republicanism onto the GOP electorate despite all the available evidence. It's another reason one might be wise to entrust one's earthly fortune to the nearest mattress.