In the wake of Wednesday's massacre that left 14 dead in San Bernardino, California — the 355th mass shooting in the U.S. this year — politicians once again offered their thoughts and prayers, but didn't offer any concrete plans to stop the killing. One journalist spent the evening on Twitter calling out the reason why, tweeting each member of Congress who #prayedforsanbernardino with the amount of money that person received from the National Rifle Association in the most recent election cycle.
Igor Volsky, of liberal blog ThinkProgress, told MSNBC there's nothing wrong with "thoughts and prayers," unless you're in a position to affect gun policy and all you do about it is think and pray. He believes the NRA is paying elected officials and presidential candidates to make sure they don't go any further.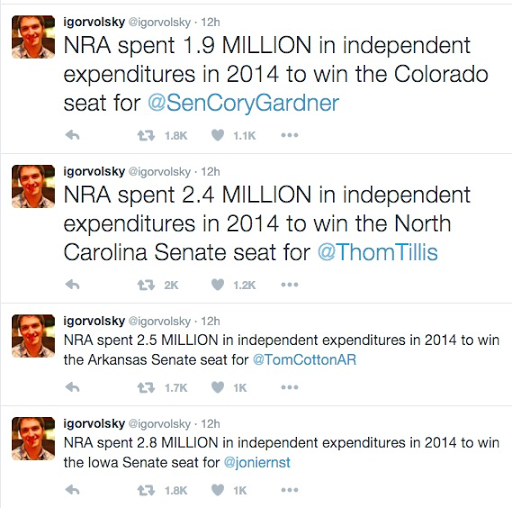 And in case you assumed that NRA-backed politicians are just doing what their constituents demand, Volsky also cited recent polls showing that 86 percent of Americans support universal background checks for gun purchasers, and that 55 percent think laws regarding the sale of firearms should be made "more strict."
Thousands liked and retweeted Volsky's callouts, but none of the politicians he targeted replied to his accusations. A couple of them did delete their "thoughts and prayers" tweets or block Volsky on Twitter in response, though.