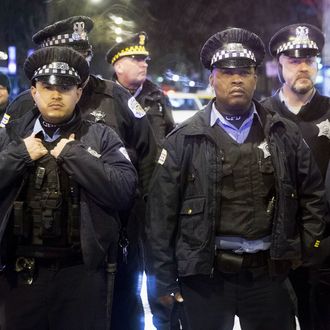 Police stand guard as demonstrators protest the death of Laquan McDonald on November 25.
Photo: Scott Olson/Getty Images
On Monday morning, U.S. Attorney General Loretta Lynch announced that the Justice Department would conduct an investigation into the Chicago Police Department. The police department and the city government have faced massive criticism since a video showing a police officer fatally shoot 17-year-old Laquan McDonald 16 times was released in November.
The police officer, Jason Van Dyke, was charged with first-degree murder. 
Lynch said the investigation will try to find out if the police engaged in "a pattern or practice of violations of the Constitution or federal law" — especially involving abuses related to use of force. She also said she was fully aware of the distrust some residents felt toward the police department. The Justice Department has conducted investigations in Baltimore and Ferguson after similar cases involving young black men dying after confrontations with the police. 
"This mistrust from members of the community makes it more difficult to gain help with investigations, to encourage victims and witnesses of crimes to speak up, and to fulfill the most basic responsibilities of public safety officials," she said. "And when suspicion and hostility is allowed to fester, it can erupt into unrest."
Mayor Rahm Emanuel, who recently called for the police superintendent's resignation and an expansion of the city's body-camera program, was at first against a federal probe into the police department, saying, "I think an additional layer prior to the completion of this, in my view, would be misguided." Emanuel later changed his mind; he released a statement today noting that the city would cooperate with the investigation and that "Nothing is more important to [him] than the safety and well-being of our residents and ensuring that the men and women of our Police Department have the tools, resources and training they need to be effective crime fighters, stay safe and build community trust."
Lynch did not know how long the investigation would take, or how far back into the records the Feds planned to go, but she did say that investigators planned to talk with many members of the community about their experiences. Those same residents are probably eager to hear the investigation's results as soon as possible. Reverend Marshall E. Hatch, who has a church on the West Side, told the New York Times, "People have a lot of questions, and I don't think this is going away any time soon. It was almost surreal to think people thought this was a life that could be thrown away and walked over for apparent political advantage."