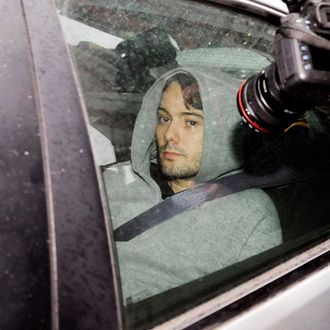 Photo: Louis Lanzano/Bloomberg via Getty Images
KaloBios, the biotech company briefly helmed by recently arrested "most hated man in America" Martin Shkreli, filed for bankruptcy on Tuesday. The company was already near collapse before Shkreli and a team of investors bought up a bunch of shares and he became CEO. He resigned from the San Francisco–based company shortly after getting arrested on federal securities fraud charges, and things only got worse for KaloBios after that.
Its shares tanked so much — and its reputation got so singed — that Nasdaq decided to delist it (the fact that the company hasn't filed its latest quarterly report didn't help), a decision that the biotech company is appealing. After Shkreli's arrest, two other members of the company's board — both had ties to Shkreli — also resigned, leaving KaloBios with only two remaining board members.
Shkreli is best known as the guy who raised the price of a rare drug for AIDS and cancer patients by about 5,000 percent. He later stated that he wished he had raised the price even more. He is out on $5 million bond and is not allowed to leave New York. His lawyer, who was also arrested on similar charges, is currently in Cancún — a judge let him go on a family vacation as long as he promised to return and relinquish his passport. 
Just yesterday, Hillary Clinton mentioned Shkreli on the trail in New Hampshire. "Some of you have heard about this pharmaceutical company where the guy's now been indicted — Turing — right?" she said, according to Bloomberg. "Well, what he did was go out and find a drug that people had to have to survive … mostly for AIDS patients, but not totally. So he buys a company that is selling this drug and overnight increases the cost from $7.50 a pill to like $750 a pill and basically says, 'Tough. I'm charging what I can charge.' We can't let that go on either."