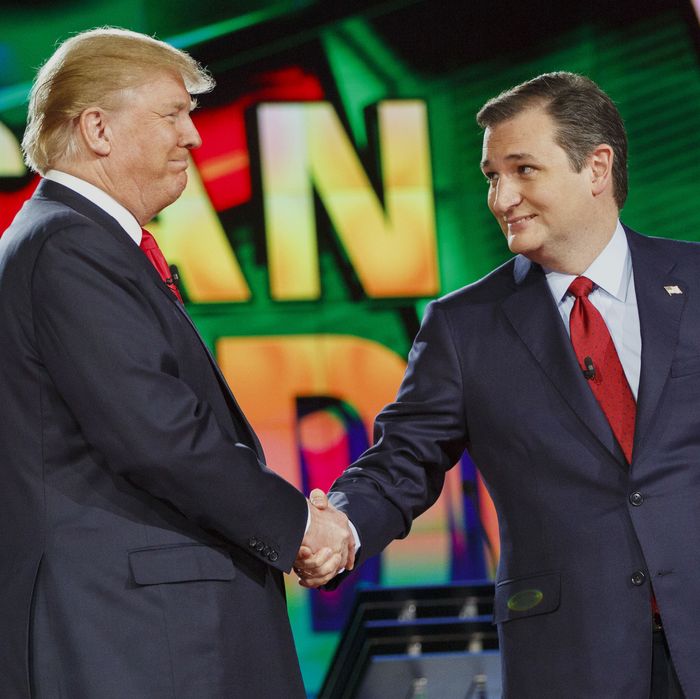 This is not the showdown we were promised.
Photo: Patrick T. Fallon/© 2015 Bloomberg Finance LP
After debates defined by boring exchanges about the economy and a revolt against the media, Tuesday night's GOP debate returned to a familiar format. The candidates mostly stuck to attacking each other (along with President Obama and Hillary Clinton) as they focused exclusively on matters of national security. Donald Trump still dominated the discussion, even when he wasn't being questioned directly, but Marco Rubio and Ted Cruz, the candidates just behind him in the polls, were a bigger presence than they've been in previous debates. So far no clear winner has emerged, aside from the word "safe," which was uttered 55 times as candidates faced off for the first time since the terror attacks in Paris and San Bernardino. Here are the highlights.
Trump and Bush's Relatively High-Energy Feud
Is hiring a Roger Ailes–approved media coach paying off for Jeb Bush? Uh, sort of? Bush didn't suddenly demonstrate Megyn Kelly–like poise, but he was the only candidate who consistently went after Trump. He had some help from CNN. In the second question of the debate, Bush was asked to explain why he called Trump "unhinged" after he announced his Muslim ban. "Donald is great at — at the one-liners, but he's a chaos candidate. And he'd be a chaos president," Bush said. "He would not be the commander in chief we need to keep our country safe."
Of course, Trump hit back, and the candidates traded personal insults multiple times throughout the debate. At one point Trump revived his "low energy" dig, saying "I know you're trying to build up your energy, Jeb, but it's not working very well."
Trump accused CNN of being "unprofessional" for setting up other candidates to attack him. Then Bush borrowed an Obama jab, saying that if Trump couldn't handle a GOP debate, he'd never be able to stand up to Putin. "You're never going to be president of the United States by insulting your way to the presidency," Bush added. Trump said it's working so far, noting that he's way ahead in the polls. "You know, you started off over here, Jeb. You're moving over further and further," he said. "Pretty soon you're going to be off the end."
Trump's Plan to Literally Break the Internet
Moderator Wolf Blitzer asked Trump to elaborate on another one of his controversial proposals for fighting ISIS: closing down parts of the internet. "What I wanted to do is I wanted to get our brilliant people from Silicon Valley and other places and figure out a way that ISIS cannot do what they're doing," Trump said, winning some applause though his answer didn't clear up anything.
Later Rand Paul attacked Trump on that point, arguing that shutting down parts of the internet would violate the First Amendment. Trump told Paul, "I'm talking about parts of Syria, parts of Iraq, where ISIS is, spotting it."
Trump was shocked when audience members booed his vague proposal. What about "the nerds will figure it out" didn't they understand?
Do the ISIS Strategies Put Forth by Trump and Cruz Involve Killing Civilians? Maybe.
As Paul noted in the clip above, during the debate Trump doubled down on his proposal to kill terrorists' family members, which violates the Geneva Conventions. Also up for some war crimes: Ted Cruz, who confirmed that he's in favor of "carpet bombing" Raqqa, ISIS's capital, though Blitzer noted there are "hundreds of thousands of civilians" in the Syrian city.
Then he described hitting particular ISIS military targets, rather than leveling the entire city, so to be fair it seems he doesn't understand what the term "carpet bombing" means.
The Rubio/Cruz Fight You've Been Waiting For
After sniping at each other for some time on the campaign trail, the two senators finally had it out — multiple times, actually. They got into heated exchanges on the U.S. intervention in Libya, Cruz's vote to reign in the NSA's surveillance programs (Cruz called Rubio's attacks "knowingly false" and "Alinsky-like"), and immigration.
Like many Republicans, Cruz is not a fan of what he called the "Rubio-Schumer Gang of Eight" bill, the bipartisan immigration legislation that passed in the Senate two years ago. Rubio accused Cruz of supporting "legalizing people who are in this country illegally" — but Cruz said he has never and will never support legalization.
Trump and Cruz Fail to Deliver the Fight You've Really Been Waiting For
Cruz won't criticize Trump publicly, but after it was revealed that the senator questioned whether Trump has the "temperament" for the presidency, the front-runner spent the weekend spewing mild Cruz insults. Supposedly, the debate was going to be all about Trump going after his surging rival, but when asked about calling Cruz a "maniac," Trump said, "Let me just say that I have gotten to know him over the last three or four days. He has a wonderful temperament … He's just fine. Don't worry about it."
Trump Actually Won't Run As an Independent … Probably
Though Trump signed a pledge not to run as a third-party candidate, he recently started floating the possibility again. But when Hewitt asked if he's committed to running as a Republican, he said, "I really am. I'll be honest, I really am." He added, "I am totally committed to the Republican Party. I feel very honored to be the front-runner." In a possible first for debate moderators, Hewitt applauded.
After the debate, Trump told CNN's Chris Cuomo that there are "no exceptions" to his pledge. "I'm going to be a Republican, I'm not going to be doing a third party," he said. "No matter what." Trump really couldn't be clearer, but on the other hand, we've heard that before.