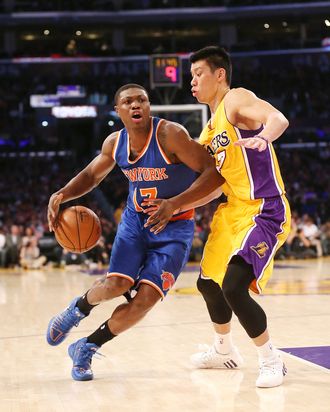 Early
Photo: Stephen Dunn/Getty Images
About 24 hours after Knicks player Cleanthony Early was shot in an armed robbery, CityScapes — the Queens strip Early had visited before the stickup — was vandalized after someone flung a Molotov cocktail through one of its windows. The makeshift firebomb shattered the glass and sparked a fire inside the club, though it was quickly put out and no one was hurt. The police said the suspect fled, and so far no arrests have been made.
Early was shot in the leg early Wednesday morning during an armed robbery shortly after leaving the Queens strip club. Early, a 24-year-old small forward who was drafted by New York last year, had apparently hopped into an Uber after leaving CityScapes. After traveling a few blocks, his car was boxed in and surrounded, reports the Post, and a group of masked men jumped out — at least one of whom was brandishing a gun, say police.
The bandits reportedly robbed Early of gold chains, gold caps on his teeth, an iPhone, and cash. One of the gunmen fired a bullet into Early's right knee, police say. The holdup men also took the Uber driver's ID but did not steal anything from the woman. The robbers made their getaway, and no arrests have been made. Police told DNAinfo that they believe the criminals recognized Early at the club and targeted him as a result.
After the stickup, Early stumbled over to residences nearby. A neighbor heard Early scream and spotted him on a resident's stoop, he told the Times. He and the owner of the home — who also heard the commotion outside — called 911 because they believed Early was a burglar.
The Knicks, in a brief statement Wednesday, acknowledged that Early had been hurt.
The Knicks had a team practice Wednesday night, and coach Derek Fisher told reporters that despite Early's injuries, "it could be a lot worse and that we could be talking about this in a different way." Fisher did not comment on Early's late-night visit to the strip club hours before practice.
Knicks player Carmelo Anthony, who along with other NBA stars appeared in a big anti-gun campaign over Christmas, told the Times, "I'm not a saint. I go out and have a good time with friends and family. But I think we have to do a better job of being more safe and putting ourselves in safe environments."
Other teammates and NBA players shared their support for Early on social media.
Early, a Bronx native who played college basketball at Wichita State, was being treated at Elmhurst Hospital for non-life-threatening injuries.