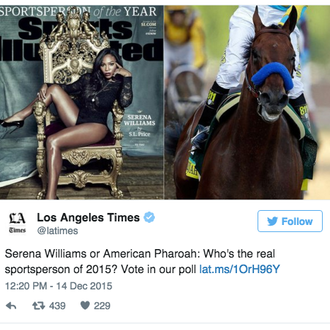 Tennis superstar Serena Williams was named Sports Illustrated's 2015 Sportsperson of the Year  today — but there's apparently a contingent of people on the internet who think American Pharaoh, a rare Triple Crown–winning horse (important: not a person), was more deserving of the award.
And the Los Angeles Times, in an attempt to cover the controversy, only ended up making a dumb debate even dumber. With a single tweet, the newspaper lent legitimacy to a pretty silly argument and prompted accusations of racism. All in a day's work on social media.
The original article, by Chuck Schilken, was actually a fairly nuanced look at the bad debate — pointing out that "horses can't really display sportsmanship," and noting the significance of Williams's return to Indian Wells after boycotting the venue for 14 years over a racist incident.
Sports Illustrated's reasoning for giving Serena the award was clearly laid out. She had an utterly dominant record of 53 wins against only 3 losses in 2015, and was ranked No. 1 every week of the year. Her reconciliation with Indian Wells, and her accompanying op-ed explaining her reasoning, only added to her impact as a "sportsperson," not just an athlete.
American Pharaoh won SI's reader's poll for this award. He is an impressive horse. He is not a person.
But all of this nuance was lost once the L.A. Times story got its headline: "Serena Williams or American Pharaoh? Who Is the Real Sportsperson of the Year? [POLL]."
And the problem was only compounded when the newspaper tweeted about it:
The backlash was immediate and fierce. What could have been the start of a discussion about fervent horse fandom with slightly racist undertones was instead a discussion about a tweet showing a horse and a black woman side-by-side and asking who was really the better sportsperson.
Oh, my.
The L.A. Times hasn't taken the tweet down, despite the outcry on Twitter. It did, however, change its headline to "Are fans right to be upset that Serena Williams beat American Pharoah for SI Sportsperson of the Year?"
And the poll asking who the "real sportsman of the year" should be — which Williams was winning 3 to 1 — has been changed, too. It now asks whether a horse should be eligible for the award in the first place.