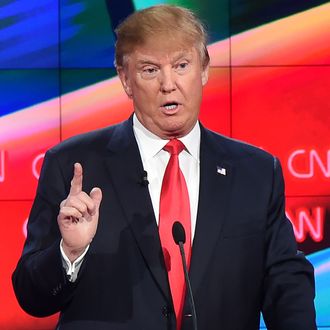 In just over a month, Minh Quang Pham is expected to go on trial in Manhattan. He faces federal charges of supporting Al Qaeda during a six-month trip to Yemen. Pham's lawyer is very worried about the potential jurors who might be deciding the case, and has asked the judge to allow additional questioning — provided in part by the defense attorneys and prosecutors — in order to root "out prejudice and bias."
The defense attorney appears to be mainly worried that the jurors may have heard of Donald Trump, who has managed to involve himself in most political and pop-culture matters this year, but hasn't infiltrated the world of legal reasoning much until now. After listening to Trump, the lawyer argues, jurors may express an inability to not be biased toward Muslims — especially ones accused of terrorism. "His statements have become a rallying cry inciting public fear of Muslims and the desire to ostracize and marginalize the followers of Islam," she said in court documents, per the AP. "The defense believes that it will be difficult, if not impossible, to seat a truly impartial New York City jury in the current climate of Islamophobia and hatred of Muslims."
According to the New York Times, attorneys have used this logic before — although Donald Trump is a novel feature.
In one 2002 case, a lawyer argued that his client, who had alleged terrorism connections, could not get a fair trial in New York so soon after the Sept. 11, 2001, attacks. The lawyer, requesting a change of venue, cited a "tidal wave of public passion" in the city. The judge rejected the request, saying the "tidal wave is of national, not just local, proportions."
During jury selection for the Boston Marathon bombing trial earlier this year, defense attorneys complained about the same thing, and asked for the trial to be moved to another place. "The attack was viewed as an attack on the marathon and on the city itself," one attorney argued. "The heart of the Sixth Amendment is the right to an impartial jury. That's a right chiseled in this building."
The judge hasn't responded to the defense's request yet, although U.S. attorney Preet Bharara's office said, per the Times, that additional questioning was unnecessary — especially as the lawyers could influence the jurors in a way that would also bias them.