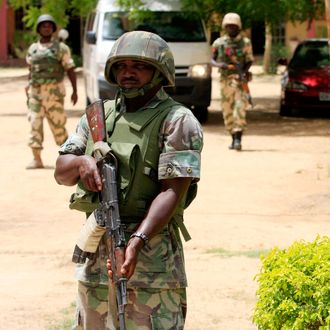 Photo: Jon Gambrell/AP/Corbis
A wave of deadly Boko Haram attacks hit parts of northeastern Nigeria Sunday night into Monday morning, leaving at least 80 people dead and an untold number hurt, reports the Associated Press.
Maiduguri, the capital of Borno State and the original home of Boko Haram, and its surrounding areas were the epicenters of the devastation. Multiple suicide bombings, grenade attacks, and a shoot-out killed at least 50 people and hurt at least 100, many of them women and children.
The bloodshed began overnight, when militants launched the assault on the city, throwing grenades that engulfed houses in flames and spraying bullets into residential areas. In the city's outlying areas, government forces and soldiers returned fire and reported that civilians were likely caught in the crossfire.
Early Monday morning, a suicide bomber detonated explosives in the middle of a crowd outside a mosque that took at least 20 lives. Additional attacks on the outskirts of the city, and a suicide bombing carried out by two girls in one of the city's neighborhoods, added to the death toll. 
In another town less than 100 miles from Maiduguri, two more female suicide bombers set off their vests at a market outside of a bustling bus station during the morning rush. At least 30 people died in that massacre.
The government-run news agency reported that Nigerian troops "intercepted" at least 13 suicide bombers before they could attack, and arrested at least one female would-be bomber.
Boko Haram, an extremist militant group that has pledged allegiance to ISIS, has been waging attacks in Nigeria since 2009, including the 2014 abduction of more than 270 girls from a school in the town of Chibok, also in the state of Borno. The current president, Muhammadu Buhari, a former military general who was elected in 2015 after campaigning hard that he would eliminate Boko Haram by year's end, said last week that "technically we [the government] have won the war" against Boko Haram, in part because the militants were no longer capable of "conventional attacks" on population centers or security forces, according to the BBC.