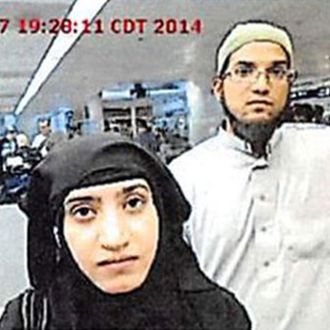 Farook and Malik at Chicago O'Hare.
Syed Rizwan Farook and Tashfeen Malik, the couple who killed 14 people when they opened fire at a holiday party earlier this month, were buried on Tuesday at a cemetery several hours from San Bernardino. A woman at the Islamic Cemetery & Masjid in nearby Adelanto, California, told Reuters that the facility refused to take the bodies due to the potential backlash and for "other reasons." Instead, the couple were given an Islamic burial at an unidentified graveyard as FBI agents stood guard.
A day later, Enrique Marquez, a friend and former neighbor of Farook's, was arrested and charged with conspiring to provide material aid to terrorist plots in 2011 and 2012. Twenty-four-year-old Marquez bought two assault rifles for Farook because the future attacker was afraid he wouldn't pass a background check — and never filed paperwork to legally transfer the guns to Farook. According to the Washington Post, federal authorities are trying to figure out if Marquez is a trustworthy narrator of the last few years of Farook and Malik's life. He has said that the pair considered an attack in 2012 before other terrorism-related arrests happened in the area and Marquez stopped hanging out with Farook. Marquez checked into a mental hospital shortly after the attack took place — reportedly drinking heavily before doing so, per the Post — and before he began cooperating with investigators. 
The charges are not directly related to the shooting that took place earlier this month. However, U.S. Attorney Eileen Decker said in a statement that "Even though these plans were not carried out, Mr. Marquez's criminal conduct deeply affected San Bernardino County, Southern California, and the entire United States when the guns purchased by Marquez were used to kill 14 innocent people and wound many others. While there currently is no evidence that Mr. Marquez participated in the Dec. 2 attack or had advance knowledge of it, his prior purchase of the firearms and ongoing failure to warn authorities about Farook's intent to commit mass murder had fatal consequences."
According to the affidavit, Farook and Marquez specifically planned on attacking Riverside Community College, which both previously attended, with pipe bombs and guns. They also planned to target a section of the freeway with no exits. "The plan was for Farook to throw pipe bombs on to the freeway," the FBI's statement on the charges says, "which they believed would disable vehicles and stop traffic. Farook allegedly planned to then move among stopped vehicles, shooting into them, while Marquez shot into vehicles from a position on a nearby hillside. Marquez allegedly said that he would watch for law enforcement and emergency vehicles, and his priority was to shoot law enforcement before shooting life-saving personnel."
The Post added that Marquez's first hearing will be on January 21. Fox News reports no other people are likely to be indicted in connection with the attack in the near future.
Marquez's boss at Morgan's Tavern, a pirate-themed dive bar in Riverside, California, told USA Today that "He was a goody, goody two shoes type kid. If anybody was talking about sleeper cells, if I had any suspicion he was a weirdo, I would have fired him." The New York Times reported last week that one customer remembered Marquez tipsily saying, "There's so many sleeper cells, so many people just waiting. When it happens, it's going to be big. Watch." He was married to the sister of Farook's brother's wife — bar regulars also remembered Marquez mentioning how much money he got paid for the sham marriage. According to ABC7, his family was unaware that he was married — or that he converted to Islam a few years ago, shortly before Farook began talking about a possible attack. According to the affidavit, Farook and Marquez sometimes talked about Anwar al-Awlaki and watched videos about radical Islam. A director at the mosque that Marquez used to go to told the Los Angeles Times that he seemed like a "decent guy" who did "nothing that could raise any flags."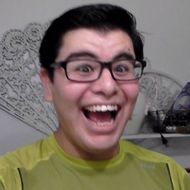 Marquez was also charged with making a straw purchase for the guns used in the attack and immigration fraud.
About ten people were at the attacker's funeral on Tuesday, including members of Farook's family and people he knew from mosques in San Bernardino. While Farook regularly attended religious services, a local mosque-goer who did not attend the funeral said most people in the community refused to participate in the funeral rites. "I don't forgive him myself," he said. "I pray mercy for him, and we Muslims know God is merciful. But he's also just."
The White House announced on Wednesday that President Obama will stop in San Bernardino on Friday as he travels to Hawaii for Christmas. As he's done many times during his presidency, Obama will meet privately with the shooting victims' families.
Funerals for the victims continued on Wednesday with the burial of 26-year-old Aurora Godoy, the youngest person killed in the attack. Godoy married her high-school sweetheart, James, and their son, Alexander, is nearly 2. Nearly 1,000 people gathered for her memorial service in Gardena, California. Friends and family described her bubbly personality and love of baking, Disneyland, and the Green Bay Packers. "She just lived her life and loved and celebrated every day," family friend Jill Johnson said.