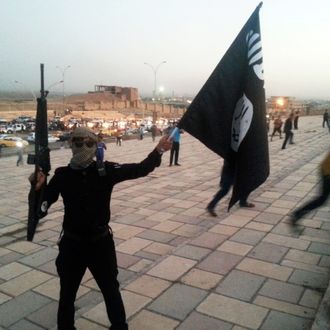 An ISIS fighter holds an Islamic State flag on a street on June 23, 2014.
Photo: Reuters/Corbis
A preschool teacher who claimed that a man came into a classroom and slashed him with a box cutter or scissors apparently made up the entire story, according to French authorities. 
The teacher, who taught at the Jean-Perrin school in the Paris suburb of Aubervilliers, had alleged that as the attacker cut his neck, he said, "This is Daesh, it's a warning." Daesh is another name for ISIS. He also claimed the slasher wore something covering his face — described as a ski mask or balaclava — and then fled.
Police had initiated a search for the attacker. The teacher's testimony was the only evidence of the stabbing, though he did have non-life-threatening injuries to his neck and was hospitalized. But when the teacher was questioned by prosecutors Monday afternoon, the educator admitted the entire story was a hoax.
Now prosecutors are trying to figure out why the teacher faked the incident, reports AFP.
According to Reuters, a recent French-language ISIS publication encouraged followers to kill teachers in France, accusing the "enemies of Allah" of promoting secular learning and ruining young people with things like music. Not too far away from the Paris suburb where this morning's attack took place, 130 people were killed last month in an attack claimed by ISIS.
This post has been updated based on new information. The original version of this story reported the claim that the teacher had been attacked.