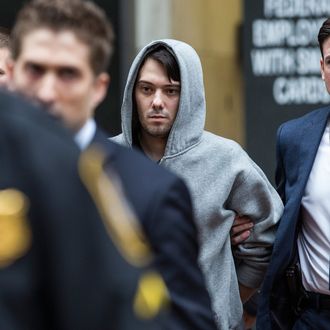 Photo: Andrew Burton/Getty Images
Martin Shkreli, the pharmaceuticals CEO who raised the price of a drug that helps people with HIV or cancer from $13.50 a pill to $750 a pill, was just arrested.
He pleaded not guilty to the seven counts — which include securities fraud, conspiracy to commit securities fraud, and conspiracy to commit wire fraud — and was released on $5 million bond Thursday afternoon.
According to CNBC, Shkreli had to give up his passport and isn't allowed to leave New York. 
The charges aren't related to the price-gouging at Turing Pharmaceuticals, his current company — being the "most hated man in America" is not necessarily illegal. According to Bloomberg, the case instead stems from the 32-year-old's time as the head of the biotechnology firm Retrophin; he is accused of taking stock from the company to pay off debts. He was later fired and sued by the company's board, which called him "the paradigm faithless servant." The lawsuit looks similar to the federal case against Shkreli. The Securities and Exchange Commission has apparently been investigating him since 2012. At Retrophin, Shkreli began doing the same thing he became infamous for at Turing — acquiring niche drugs on the cheap and significantly raising prices. He also seemed unfazed by the lawsuit when it was filed this summer, saying, "I feel great. I'm licking my chops over the suits I'm going to file against them."
Shkreli was also undaunted by the criticism of his treatment of Daraprim, the drug that he raised the price of by about 5,000 percent. 
He was arrested at his midtown Manhattan apartment this morning, wearing a hoodie, per Reuters; prosecutors in Brooklyn plan on holding a press conference on the charges today. Retrophin's outside counsel, Evan Greebel, was also arrested and accused of helping Shkreli carry out what Bloomberg calls a "complicated shell game after his defunct hedge fund, MSMB Capital Management, lost millions." The Financial Times said prosecutors called it Shkreli's "ponzi-like scheme." 
At a press conference on Thursday afternoon, U.S. Attorney Robert Capers told reporters, "As alleged in the indictment, Shkreli essentially ran his companies like a Ponzi scheme, where he used each subsequent company to pay off the defrauded investors in the prior company." Shkreli was allegedly deep in debt after his hedge fund lost millions of dollars; he used his "personal piggy bank" — otherwise known as Retrophin's money — to pay it off. 
Earlier this month, at a Forbes event where he wore a hoodie, Shkreli said if he could relive that moment, he "would have raised prices higher … My shareholders expect me to make the most profit. That's the ugly, dirty truth."
Turing Pharmaceuticals is a privately held company, but KaloBios, a biotech firm that Shkreli just took over this year, saw its stocks tank this morning.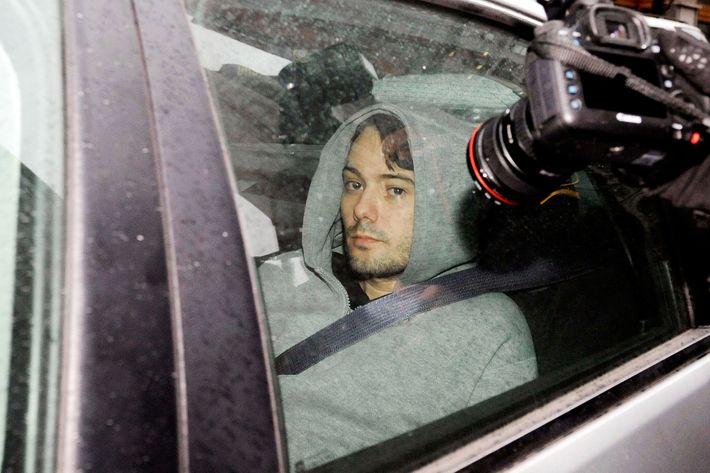 Besides stoking the ire of those forced to watch his business practices, Shkreli also enjoys buying rare rap albums that no one else in the world owns — he recently bought Wu-Tang Clan's Once Upon a Time in Shaolin for $2 million, and the musicians who profited from the sale ended up donating some of the proceeds to charity after Shkreli became the internet's new favorite villain a few months later. The CEO later told Bloomberg that he was going to "save it for a rainy day." However, he added that he "could be convinced to listen to it earlier if Taylor Swift wants to hear it or something like that." During a Senate hearing on Daraprim earlier this month, Senator Claire McCaskill once referred to Shkreli as "Mr. Wu-Tang."
Prosecutors were asked on Thursday how Shkreli got the money to pay for the album — they didn't know.
Only yesterday, HipHopDX reported that Shkreli was intent on bailing someone else out of jail: Brooklyn rapper Bobby Shmurda. However, the inveterate capitalist, who also grew up in Brooklyn, noted that he'd expect something in return. "The guy's going to have to record for me if he comes out. I'll just come out and say it. If I'm gonna post his bail, pay for his trial, get him a 'Not Guilty' verdict. … I see opportunity."