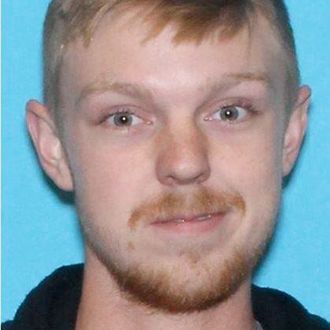 Undated mugshot of Ethan Couch.
Photo: Handout/2015 U.S. Marshals
Ethan Couch, the Texas teenager serving probation for a fatal drunk-driving incident, probably won't be back in the U.S. for some time, as a Mexican judge has agreed to delay his deportation. The 18-year-old, who was apprehended with his mother in Puerto Vallarta earlier this week, was granted a three-day court injunction, which will likely take at least two weeks to resolve — "and it's much longer than that usually," said Richard Hunter, chief deputy for the U.S. Marshals Service in South Texas.
"It also depends on the fact the Couches have legal counsel. And it seems to me, if they wanted to, they could pay them as much money as they want to drag this thing out," Hunter added. "We're hopeful that's not the case. We're hopeful the Mexican immigration court will make a quick and decisive decision and return the Couches to America."
Tonya Couch, 48, was not a granted a similar injunction, and was put on a flight from Guadalajara to Los Angeles late Wednesday. She is being held at a Los Angeles jail until she is returned to Texas, where she will face a charge of hindering apprehension, which is punishable by two to ten years in prison. Her bond has reportedly been set at $1 million. It's not clear how long it will be before she is transported, and authorities were unwilling to explain why Couch was taken to L.A. instead of Texas. 
On Wednesday, Ethan Couch was moved from Guadalajara to a facility in Mexico City that's better equipped to hold someone long-term. He was sentenced to mandatory rehab and ten years probation for a 2013 DWI that killed four people after a psychologist testified that he was suffering from "affluenza" — a fake condition that means he was coddled too much by his wealthy parents.
Video recently surfaced that appeared to show Couch playing beer pong, and U.S. officials began hunting for him after he missed a mandatory appointment with his probation officer on December 10. The Couches reportedly had a going-away party before heading to Mexico, and Tonya Couch sold her house in August and was renting a place, per the Dallas Morning News. The pair was reportedly caught after Couch used his cell phone to order Domino's pizza. 
Tarrant County district attorney Sharen Wilson said she wants Couch's case transferred to adult court, where he could face 120 days in jail and ten years' probation.
Fred Couch, Ethan's father and Tonya's ex-husband, released a statement on the strange developments in the affluenza case on Wednesday. His lawyer told ABC News that "he is very appreciative of efforts by these and other agencies to safely locate his son. Because of Ethan's pending legal issues, Mr. Couch will have no additional comment at this time."
The Dallas Morning News talked to a local lawyer who explained how the sojourn in Mexico might affect Couch's case. "It's a mistake to go down this path. It has the potential to show the judge that his intent was to flee," he said. "Ethan's going to have to make a decision: either say he was with this all along or he's going to have to blame his mother."
The psychologist who used the word affluenza to describe Ethan Couch's behavior during his drunk-driving trial told CNN that he regrets using the term — which, as the New York Times points out, has been used a few times before in the past several decades. "I wish I hadn't used that term," he said. "Everyone seems to have hooked onto it. We used to call these people spoiled brats."