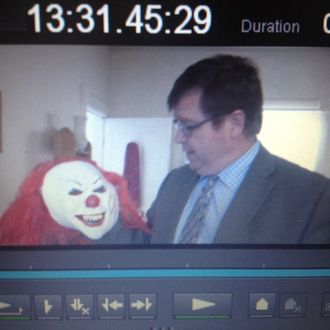 A specter is haunting Wisconsin — the specter of a guy in a creepy clown costume. In what has now become a subgenre of weird internet horror pranks, a teenage jokester and a copycat have been dressing up as scary clowns and standing around the lucky town of Waukesha.
Local ABC affiliate WISN managed to track down the clown, who local police described as a "developmentally delayed" teen.
Another clown seen later in the week near Carroll University, sporting a different "Joker-type" appearance, is believed to be a copycat.
The boy's mother defended his actions as "harmless" (which they are), though she conceded that, yes, some people find clowns scary. Eventually, reporters tracked down the original clown, who said that he will not stop. He will continue to clown.