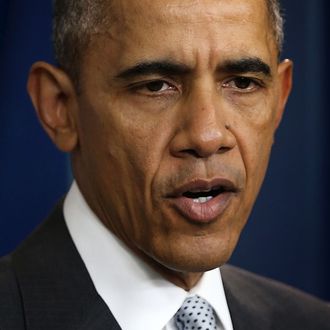 Unlikely coalition: one man's crackdown on Muslims and the other's crackdown on guns drawing some common support.
Photo: Win McNamee/Getty Images
One of the questions kicking around on politics Twitter today is whether Donald Trump has shocked and dismayed his own actual and potential supporters by proposing a temporary, but almost certainly unconstitutional, ban on entry into the country by Muslims while authorities "try to figure out what's going on" with the San Bernardino killings. A crowd in South Carolina who heard Trump's proposal firsthand seemed to love it. A bit more scientifically, a North Carolina–based polling firm finds that Trump supporters in the Tar Heel State love them some Islamophobia — but also favor steps none other than Barack Obama has urged to keep guns out of the hands of terrorists and other crazy people.
Public Policy Polling's latest survey of North Carolina was taken too early to test Trump's latest effort to combine immigration restrictions with Islamophobia. But it seems supporters of Trump — who leads the GOP field in the state with 33 percent, to Ted Cruz's 16 percent, with Ben Carson and Marco Rubio tied for third at 14 percent, and Jeb Bush a very distant fifth at 5 percent — favor even more extreme proposals like closing mosques (51 percent) and even banning Islam (44 percent, with 24 percent wanting to keep Islam legal, and the rest unsure). 
"It's hard to imagine Donald Trump's newest round of comments about Muslims hurting him, at least in a state with a Republican electorate as conservative as North Carolina's," said Dean Debnam, president of Public Policy Polling. "Few of his supporters even think the practice of Islam should currently be legal, much less that more Muslims should be allowed to enter the country."
One of the reasons PPP surveys are always worth following, no matter what you think of the firm's overall accuracy or its robo-polling methodology, is that they ask a lot of unconventional questions and publish all kinds of cross tabs explaining exactly who thinks what. So the same poll that shows Trump supporters favoring the kind of Islamophobic steps President Obama has condemned also shows them agreeing with Obama on gun policy. 
Eighty-one percent of Trump supporters in North Carolina (and 83 percent of Republicans overall) "support a criminal background check for everyone who wants to buy a firearm." That is definitely not NRA gospel. Ninety percent of Tar Heel Trump supporters (and 86 percent of Republicans in the state) "support a bill barring people on the terrorist watch list from purchasing a firearm," another position that has been denounced as inimical to the Second Amendment since Obama articulated it Sunday night.
Do you think these are people who are easily going to be lashed back into compliance with Republican orthodoxy on either issue? I don't.