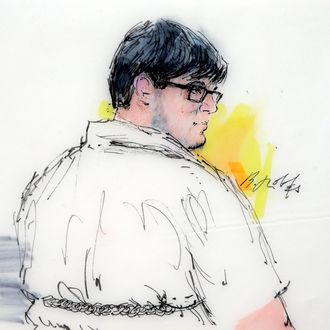 Sketch of Marquez in court last week.
Photo: Bill Robles/© Corbis. All Rights Reserved.
Enrique Marquez Jr., a friend and former neighbor of San Bernardino shooter Syed Rizwan Farook, was indicted by a federal grand jury on Wednesday for allegedly conspiring with Farook to carry out terror attacks in 2011 and 2012, and for marriage fraud. The 24-year-old was previously charged with providing the firearms and smokeless powder that Farook and his wife Tashfeen Malik used in the December 2 attack.
Farook reportedly had Marquez buy the firearms back in 2011 and 2012 because he feared he wouldn't pass a background check. They were reportedly planning attacks on the 91 Freeway in Corona and at Riverside City College around that time, but they abandoned those plans. Marquez has not been accused of having an active role in the shooting that left 14 people dead, but it's unclear if he knew about it beforehand.
NBC News reports that Marquez is now facing five charges: conspiring to provide material support to terrorists, two counts of making false statements regarding guns, one count of marriage fraud, and one count of making false statements in relation to a sham marriage.
Last year Marquez married Russian national Mariya Chernykh, whose sister was married to Farook's older brother. Records show that he and his new bride lived in different towns, and he admitted to authorities that he was paid to marry her.
Marquez is currently being held without bail and is scheduled to appear in court next Wednesday. If convicted on all charges, he faces up to 50 years in prison.